Samsung unveiled their continuation of the popular Ultra series with 3 new handsets. This time the new additions are targeted specifically into three distinctive usage categories. The new handsets are called Ultra Music, Ultra Video and Ultra Messaging. The Ultra Music handset is in fact Samsung SGH-F300, the Ultra Video is the Samsung SGH-F500 and the Ultra Video is the Samsung i600.
The Samsung SGH-F300 Ultra Music has a unique dual-face design. On one side it has dedicated music player controls and a large 2.1" 262K color TFT display with a resolution of 176 x 220 pixels. The dedicated music keys are in fact touch-sensitive with a single normal Play/Pause key in the middle and are called Sweeping touch UI. The phone side of the SGH-F300 has a conventional alphanumeric keypad with large keys and a small display. Switching between multimedia player and mobile phone modes is done through a dedicated side key. The tri-band GSM/GPRS/EDGE mobile features a 2 megapixel camera, Bluetooth stereo (A2DP) support, stereo FM radio and USB 2.0 and has 100MB of integrated memory and a microSD memory card slot support of up to 2GB of additional storage.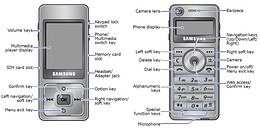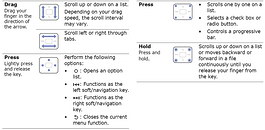 Samsung F300 is really a dual face device • sweeping touch navigation
The Samsung SGH-F500 Ultra Video has the same intriguing design but it also features a swivel design of the display portion of the mobile so that you can rest it on the desk in front of you and enjoy movies in landscape mode on the large 2.4" 262K color TFT display with a QVGA (320x240 pixels) resolution. What is more, the Video designation is by no means an accident since it comes with the world-first DivX video codec support. As seen on the pictures the mobile features an external antenna which for now remains a mystery to us.At first we thought that it would come with Mobile TV but there's nothing mentioned in the official specifications. The SGH-F500 comes complete with tri-band GSM/GPRS/EDGE support along with UMTS (3G) for watching streaming multimedia content. It also offers USB and Bluetooth stereo (A2DP) support. It also has 400MB of integrated memory and a microSD memory card slot which allows expanding the available storage space to up to 2 GB. Last but not least, the feature-rich Samsung SGH-F500 comes equipped with a 2 megapixel camera as an icing on the cake.
The Samsung i600 is a smartphone/messenger based on the Windows Mobile 5.0 OS for Smartphone. Its form factor and dimensions is almost identical is a lot like the Samsung i320. It has a large 2.3" 65K colors TFT display with a QVGA resolution a full QWERTY keypad, TI OMAP processor running at 200 MHz and 128MB ROM and 64MB RAM. There is also a microSD memory card slot to expand the available memory. The unique thing about it is that it features HSDPA support for ultra fast data transfers where there is network support. Other connectivity features include GPRS/EDGE, Bluetooth stereo (A2DP), USB and Wi-Fi 802.11 b/g. The Samsung i600 also has a 1.3 megapixel camera and a secondary VGA one for video calls.
All the new Ultra devices would be available in the first quarter of 2007. Their pricing is still unknown.
m
hi!this is the best cell phone i have ever seen, and have all the facillities one can ever need for daily funtions.especialy video making,photo capturing for outings and office needs.
?
I am more concern about the SMS feature and camera button is on the other side. Unless the camera function (video) can be controled by the Touch sensitive button what ever we call.
S
i like the mp3 side of the phone.. it is cute as long u dont show the other side of the phone... i saw this phone on G4tv CES episode, and its only $200.. but i dnt know if its the F500 or the F300 that worth $200? coz they look desame! =P i wond...
ADVERTISEMENTS