It's hours until the Unpacked event, which will see the debut of the Galaxy Note 5 and Galaxy S6 edge+. Okay that's what we think from the rumors, let's recap them while we pass the time to the curtain opening. It goes without saying: spoilers ahead.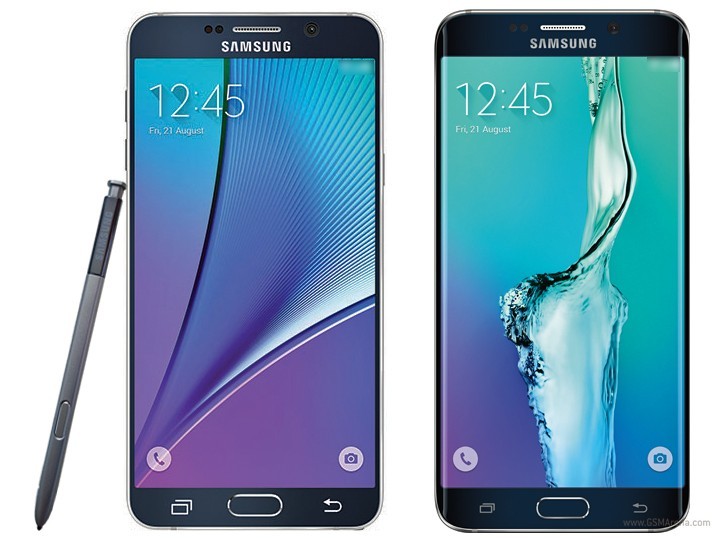 By the way, the event starts at 15:00 GMT. There will be a livestream so you can watch the unveiling, but it isn't available yet so check back in a few hours, we'll post it so it's easy to find.
Samsung Galaxy Note 5
Last year Samsung unveiled two Notes, but the fifth generation will likely be a solo act. The phablet king will be based on the Galaxy S6 both in terms of design and inner hardware.
The screen is expected to stay at 5.7" QHD, though Samsung probably has some technology improvements for Super AMOLED. The back will drop the faux leather look, switching to glass instead.
The chipset is rumored to be an Exynos 7420. Samsung usually uses a beefier chipset for the Note compared to the Galaxy S, but there's no word on a new Exynos. Perhaps we'll see higher clock speeds, but talk of a new 7422 chipset died out so new hardware is unlikely.
Like the chipset, the camera department will stay put – 16MP camera with optical image stabilization on the back and a 5MP selfie camera. There's a chance the camera will move to a Samsung sensor or mix them up with Sony-supplied sensors.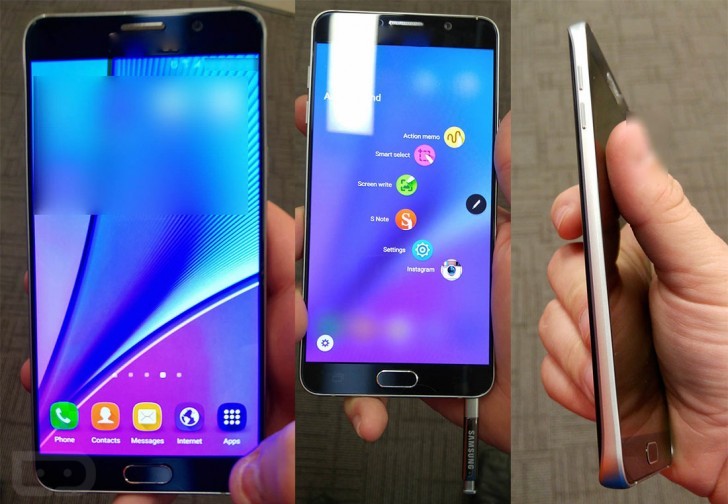 The Galaxy Note 5 should have 4GB of RAM, the extra gig will afford some extra room for Android 5.1 Lollipop, TouchWiz and apps. The new model will come with extra storage options – the usual 32GB, plus 64GB and 128GB.
In case you haven't heard, chances of a microSD card slot are slim to none. Samsung is also cutting off access to the battery. It already did that with the Galaxy S6 and it seems the Note 5 won't escape that fate. We may see the microSD slot return on the dual-SIM Note 5, but we wouldn't bet on it.
We expect to hear how fast the UFS 2.0 storage is and how power efficient the new screen and chipset are, but those are small consolations.
Especially when Galaxy Note 5 is expected to have a 3,000mAh battery – 220mAh smaller than the previous generation. Wireless charging is a very likely addition for what that's worth and we're going to see some variation of Fast Charge (but no USB 3.0 or Type C).
Here's a potential plot twist – will the S Pen stylus be clickable or not? Will it auto-eject? (our bet: "no" for both)
Samsung Galaxy S6 edge+
It may have been the Note Edge that pioneered the screen side curve, but that seems to be moving exclusively to the "S6 edge" line. The Galaxy S6 edge+ will be the same size as the Note 5, but it will not have an S Pen (so it's not a "Note").
The ~5.7" screen will have its left and right sides curved as on the smaller S6 edge. Stylus aside, the hardware will be pretty much identical – Exynos 7420, 16MP+5MP cameras, no microSD slot and a sealed 3,000mAh battery.
We're not sure what could have prompted that decision, Samsung advertises the S Pen as the biggest reason the Galaxy Note is better than other phablets. Will the curved screen be enough to set the Galaxy S6 edge+ apart?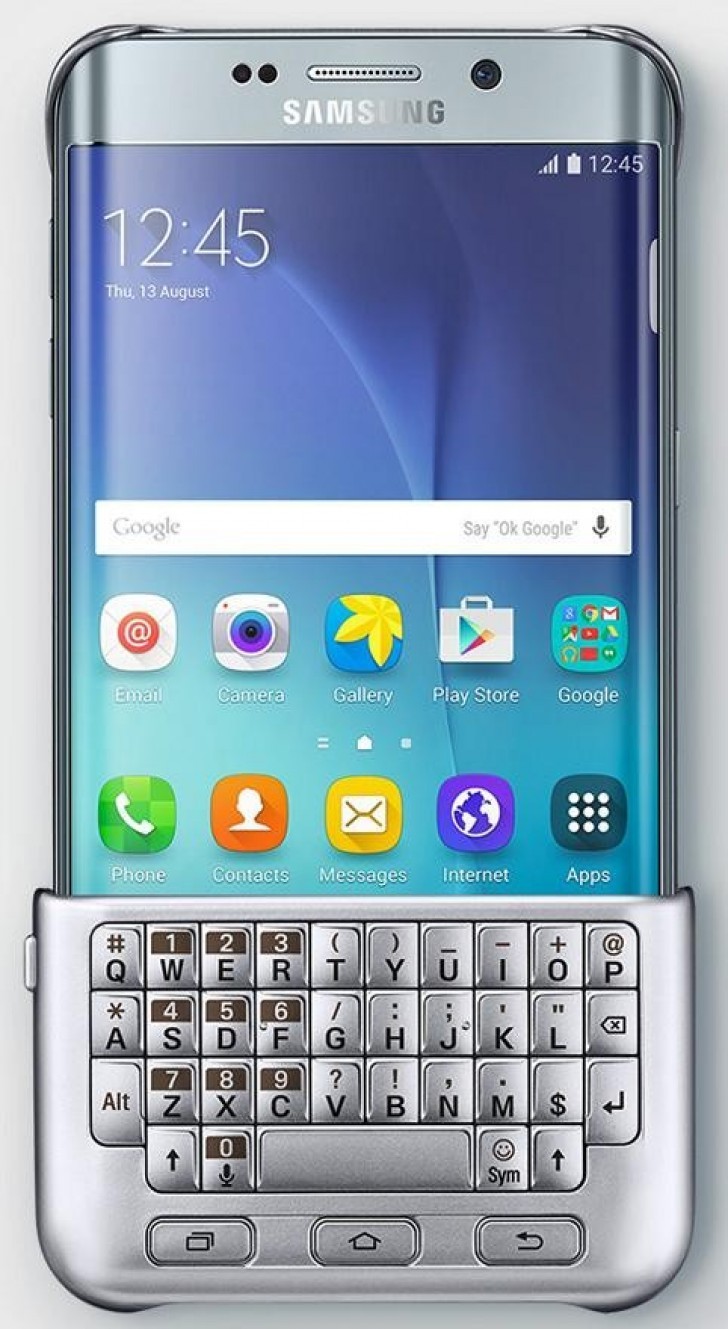 Well, it better. It's expected to cost €800/$875 for the 32GB model so it's definitely priced like a Note. Pre-orders should start around August 20/21 in France and South Korea, the launch two weeks later.
Samsung may be betting on a physical keyboard cover for the S6 edge+, which slides on the bottom of the phone and turns it into an OmniaPRO throwback.
Something else
A Galaxy S6 mini? An 18.4" tablet? A Tizen smartwatch? New Gear VR?
The Samsung corner of the rumor mill is quite busy and we might see one of the gadgets standing there get promoted to official status. Last year at IFA the company unveiled two Galaxy Notes (4 and Edge), the Gear S smartwatch and a Gear VR headset.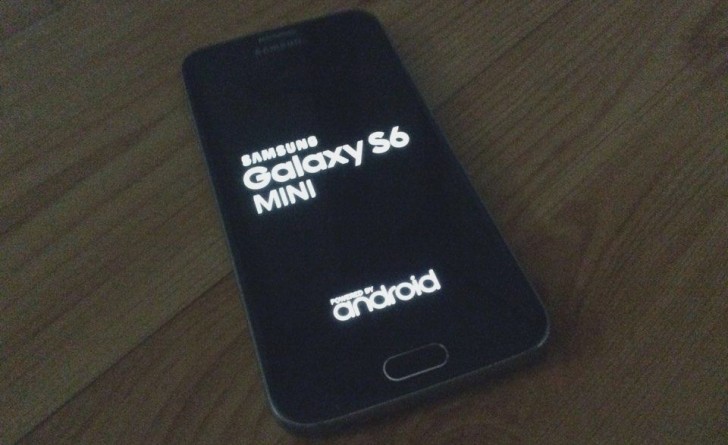 However, if Samsung brings out a new watch and headset today it won't have much left to show at IFA (which is less than a month away). Pulling the Note 5/S6 edge+ announcement forward was to give them some breathing room before Apple drops the new iPhone 6s/6s plus, so the focus will likely stay on them.
T
I can control not only current TVs, but also appliances, air conditioners, and projectors. Infrared remote is pretty useful.
?
IR - Technology that's DECADES old and other than for TVs is not used Removable media - Again, old tech becoming rapidly obsolete due to wireless transfer speeds exceeding wired transfer speeds in some applications & the meteoric rise of clo...
?
If your brain can't handle, don't think about it. Will be unnecessary pain for you.