A year and a bit after SanDisk unveiled its 200GB behemoth of a microSD card, Samsung has managed to best that. The Korean company today has announced a 256GB microSD card, which is UHS-I, Class 10 (U3) compatible.
The card uses "advanced V-NAND technology" to achieve a maximum read speed of 95MB/s and a write speed of up to 90MB/s. That's pretty much in the same ballpark as SanDisk's aforementioned 200GB model - but you do get more storage space, obviously.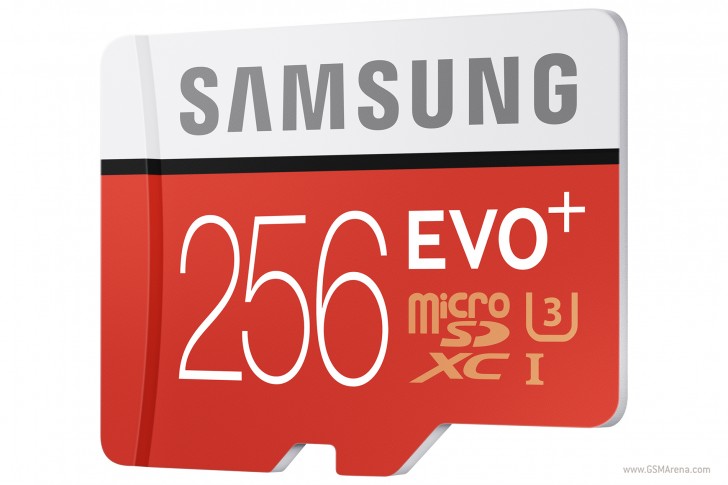 Samsung's product can store up to 12 hours of 4K video recordings, up to 33 hours of 1080p video, or 46 hours of 720p footage, or 23,500 MP3s, or 55,200 photos, the company says. The card is IPx7 compliant, meaning it is water resistant. It's also temperature-proof, magnetic-proof, and X-ray-proof.
The 256GB Samsung Evo Plus microSD card will become available in more than 50 countries in June for a recommended retail price of $249.99. It will come with a 10-year warranty.
g
thats a really birght idea but i think it is to expensive to tell me why because simply 250 dollars is to much . yeah thats the problem in africa
J
Considering the portability and battery life it is not very well acceptable unless it is for home usage only. Btw, what the write speed of this hdd you talking about? Any faster than the one Samsung offers?
D
the wifi harddisks are very cheap , you dont need to buy ready one , buy wifi empty box ($40-$70) and buy a 2.5 inch harddisk and put it in the case. 1 Tera 2.5 is around $60 so it will be $100-$130 total for 1Tera wifi harddisk. half the pric...
ADVERTISEMENTS