Samsung unveils ISOCELL Plus camera sensors with 15% better light sensitivity
The original ISOCELL camera sensors featured "walls" around each pixel that prevented light intended for one pixel from reaching another, which led to a sharper image. Now Samsung in collaboration with Fujfilm has developed ISOCELL Plus, which improves on the same concept.
A new material has been developed for the "walls", which guides more light towards the photo receptor and results in a 15% improvement in light sensitivity along with higher color fidelity. The old "walls" were made of metal, which absorbed some of the light and even reflected some light away.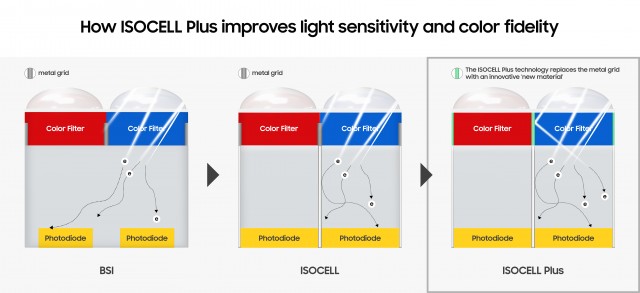 New wall material in ISOCELL Plus improves light sensitivity
The enhancements in ISOCELL Plus will allow Samsung to build image sensors with 0.8 µm pixels (and even smaller) without losing performance. This will come in handy for 20+ megapixel phone cameras, the company says.
R
Samsung got back to drawing board once it ran out of tricks.
?
That was a really crappy way for me to disagree. Sorry
?
Those are way more extreme. You are just brainlessly defending
ADVERTISEMENT