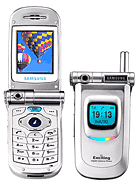 ?
Too colorful!! Is this a cell phone or a baby toy?
L
Just checked this out today, as I am shopping for a new GSM mobile. The V205 has potential, but I don't like the menuing interface, perhaps it will grow on me.

I like the RGB LEDs along the lower rim of the outer display. It cycles with many colors as it receives an incoming call. Nice vanity mirror around the larger LCD, like the Mot T720i.

Where's the series 40 version? If Samsung can license series 60, why not series 40? That would be nice..
Total of 342 user reviews and opinions for Samsung V200.