Samsung to start taking reservations for the unannounced Galaxy C7 Pro on January 16
Ladies and gentlemen, the leak-filled saga of the Samsung Galaxy C5 Pro and C7 Pro is about to come to a conclusion, it seems. Judging by the latest revelation out of China, these new smartphones should become official very soon, perhaps even in the next couple of days or so. If not, then they definitely will be unveiled on January 16, because that's when Samsung plans on starting to take reservations for the Galaxy C7 Pro in China.
The reservations system is widely used over there and it differs from pre-orders because you either aren't required to pay anything upfront when you make a reservation for a new phone, or you just put down a deposit that's a very small sum (think $10 or so).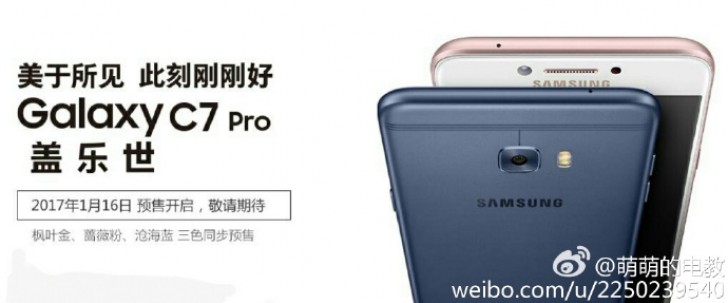 The leaked marketing image above also tells us that the C7 Pro will launch in China first, just like the C9 Pro did in late 2016. We assume the C5 Pro will have a similar fate, and hope that it will be outed alongside the C7 Pro. They may then reach other markets after a few weeks or months, but nothing's certain at this point.
Rumored pricing information spoke about the C5 Pro going for CNY 2,399 ($$346 or €329), while the C7 Pro is to cost CNY 2,799 ($404 or €383). The former has a 5.2" or 5.5" 1080p touchscreen, the Snapdragon 626 chipset, 4GB of RAM, two 16 MP cameras (one on the front, one on the back), and a 3,000 mAh battery. The C7 Pro has a bigger 5.7" display yet keeps the other specs from its sibling, aside from battery capacity, which is 3,300 mAh. Both of these devices will run Android 6.0.1 Marshmallow.
A
Better to go for Oneplus 3T with Snapdragon 821 Soc instead of C7 Snapdragon 625
e
Do I look like a fool to pay $404 for a Snapdragon 626 chipset? Hell no Sir.