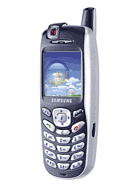 N
Anyone know when this phone is coming out? I can't seem to find any info on this phone on samsung.com nor samsungusa.com. Also, would it be for T-Mobile? or another provider?
G
The phones got amazing features plus really good reception, if you ask me this is the best theyve done. And yes battery life is good just dont play with it 24-7 like the guy below, he obviuosly was sitting on it as he has nothing else to do with his life. :)
B
How much the price about X600, and when the phone model be in the market selulair..??
J
Just a simple answer: so far so WEAK (signal) then SS have to slap the attena back on top!
J
again samsung fail to provide a phone with adequate battery life, 90 hrs stand by just isn't enough...
S
This phone has scared the bejesus out of me. It has Samsung stamped on it, yet there is no clamshell! Wow. I almost thought they would never do it! :oP
Total of 515 user reviews and opinions for Samsung X600.