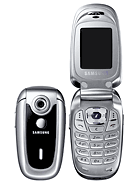 A
Dear GSMArena.

The band of X640 is Tri-band(900/1800/1900), not Dual-band(900/1800)

Thanks.
D
nah all samsung flips are the same and their getting boring now. It was ok a year ago when the e700 first came out but now samsung are gettingm pretty desperate making rehashes of the same model but just including or taking away infrared or a USB port or a camera or TFT or UFB screen but just making the shape of flip phone a little different than the last. This is just like a e330 but instead it has TFT and a slighty different screen or like the X460 but with a camera etc. They should change their software up a bit so you can have ring and vibrate at the same time and get rid of them annoying warning tones include bluetooth in some of their flips and infrared that actually works for once before they do anything else.
Total of 543 user reviews and opinions for Samsung X640.