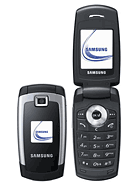 b
i've been reading all samsung's opinion, n i've using this samsung for long time ago. Well, i think U Cannot set vibrate n ring at the same time, but U can chose a ringtones that can ring n vibrate at the same time. Not all ringtones can do this, but some other ringtones can do this(vibrate n ring).
I've put some ringtones from PC to my phone, so i can tell U this.

Thx bee
t
just wondering can you set this to ring and vibrate and the same time or does it ring and then vibrate? thanks1
?
Hi there,

Does anybody know if the alarm (wake up call) can sound when the phone is turned off?

Thanks,
K
w
I bought the phone today and i think it is a real good phone it looks great and the menu isn't difficult. u can set up caller id whit picture but the contact has to be on the phone i think not on sim card.
P
I've just bought one and think it's fantastic. Small stylish and superb performance.
a
Im seriously considering buying this. Has anyone got one? And is it a good phone. Its either this or the e730..which one is better?
Please reply anyone!!! i need a new phone.
K
Looks like Samsung is replacing all their old models with the slim black ones. Kool.
Total of 211 user reviews and opinions for Samsung X680.