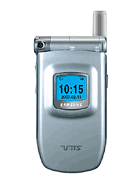 ?
i used this phone in 2004 and 2005...i think i had a great experience...no doubt, i miss every part of it..at that time...it was THE mobile...graphics were unbelievable.....n i can compare those graphics with today phones...i miss that phone so much.......

A

I used to use this phone.
Its camera is so good.
and it's really strong..
i miss that phone.
e
****Its great. Buy 1 on ebay its great.****
D
Is Samsung Z100 available in France or British Market?
R
I like get one of this phones
s
How to take a picture or record with this phone? i try but pictures doosn't save to memory,why it is?i'm from lithuania
j
i love samsung there prices are so good and the quality of the phones are the best.i personaly like the z100 maybe you could send me one of those because i was thinking of getting a new phone and right a way i thought of the samsung z100 flip phone because it looked just right for me.
C
I strongly believe that this phones are highly rated and are well recommended. I would recomend this phone to anyone, anywhere and anytime.
M
This phone has nothing on the LG U8150
K
it should have 640X480 pixels, as a whole set aint that bad
?
Wicked phone. It's got 3G features and everything! I saw a demonstration and it just kikd ass!!!
Total of 12 user reviews and opinions for Samsung Z100.
ADVERTISEMENTS