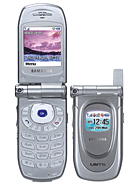 ?
alcatel 835 is much more interesting...
?
Does it come with Built in speaker??
s
may be when i would be provided wuth one and i would gothrough it and then would tell u more about it

D
Why do i have a feeling that samsung does not want to be part of the 3G competition??
m
damn...it`s da bomb ya`ll...i can`t wait till it arives,accept it doesn`t have bluetooth,it`s super
Total of 46 user reviews and opinions for Samsung Z105.