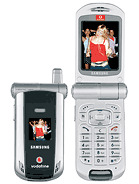 N
It is a good button phone. I need its battery. If any one can help me to buy its battery samsung z107 v or samsung z110 battery, i will be great full to you.
?
i got the samsung z110 its good but the battery is not that good
L
Rubish!This its the most unuseful phone i had.Low battery life time,bad picture quality,no bluetooth,no mp3 ringtones,y will never buy a samsung phone ever.
?
Z110 display has 240x320 resolution.
C
I have a samsung z110v. I am rather pleased with it. It's kinda big, but you get used to it.My only problems with it are : I wasn't able to find games for it and you can't use mp3's as ringtones. The camera is NOT bad quality, of that I can assure you.
T
I saw it but wasn't impressed. Poor & dificult acces to menu.
C
I love this phone but i don't know how much is it... can someone let me in and tell me the launching date of it ? i heard some have already tried it so it should be avaliable... let me know how much is it and where can i buy it from :D. Thanks
F
i've had this fone 4 2 weeks. The camera is so bad quality and i've just bought the nokia 3220. It totally rocks! The camera and flashing lights are amazing!
i
i would love to know whether is has loud speakers that u can put it on and use it okay is it available in africa or in ghana
C
This phone is not yet out but says available
G
This is a Quality Phone and i wud buy it in my opinion.
m
nobody owns this phone?
?
the specifications look really good (except no BT), status says 'Available' but i haven't seen it in any shop.... does anybody have an idea how much it costs (in euro's) thanks
Total of 13 user reviews and opinions for Samsung Z110.
ADVERTISEMENTS