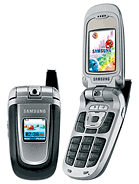 c
Hi, I was just wondering if anyone knew whether this phone can switch between GSM and CDMA/WCDMA networks (like Verizon, in the USA). I'm interested in getting this phone predominantly for GSM, but it would be great if I could use it in areas where WCDMA is a stronger presence (New York city). Thanks.
O
it's ok but i like the samsung E730 way better and i think it is also a better phone cause yeah i just do. it looks better too no offence but yeah. whats so good bout this phone anyway. plz reply. Ourdia.
C
This mobil phone is very attractive and nice!!!
i love it!
should i buy it?
i
Gee,-(Điii), Its really good, beautiful, great. Its atractive :)) Love at first sight
M
Cheap phone for poor people?

Its a 3G video phone the same size as an E700!!!!!!

What more do you want?

want a megapixel camera? Then go buy one.
?
not all there phones have to be perfect at leat we know this phone will not be too expensive
Total of 372 user reviews and opinions for Samsung Z140.