HSDPA and more
As already mentioned, the Samsung Z560 is HSDPA-enabled. The supported standard is in fact HSDPA 1.8 Mbps. The competing Motorola maxx V6 supports 3.6 Mbps but not many mobile networks support this standard.
As it seems speed will be all that matters with HSDPA-handsets becoming more and more popular in and wide spread in 2007. So we decided to conduct a little speed challenge of our own. We set up a MP3 file online which was 4MB in size or exactly 4,263,772 bytes. Then we downloaded it using several handsets in order to compare download speeds. Here are the results: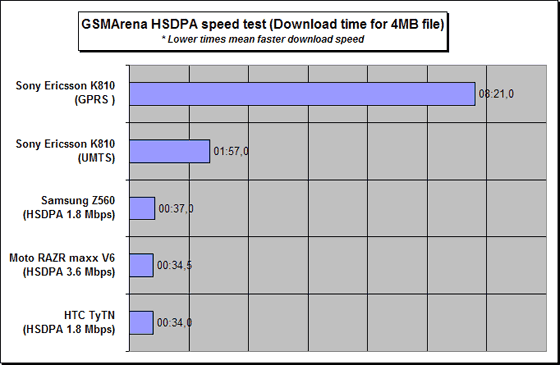 UMTS & HSDPA speed test
If one looks at the download speeds which we have listed here, they may notice that the UMTS download speeds are closer to their theoretical maximum than the HSDPA speeds. A possible explanation might be that the bottleneck for HSDPA data transfers in the end will turn out to be the pure write speed of the device itself than any other thing.
A possible reason for the lack of difference between the download speeds of the Samsung Z560 and Motorola RAZR maxx V6 is the network limitation at 1.8 Mbps.
Other connectivity features of the Samsung Z560 are Bluetooth and USB. The USB may only be used with a custom data cable. The Bluetooth connection works seamlessly. PC synchronization was a piece of cake using Bluetooth. Unlike its primary competitor, the Motorola maxx V6, the Samsung Z560 doesn't have support for a stereo Bluetooth headset.
Regrettably, there is no Infrared connectivity feature which makes connecting with older mobiles and other devices more difficult.
Not a bad web browser
The web browser manages nice with opening complex HTML pages. There is a URL remembering feature which helps the user when typing an address.
There are three zoom levels which allow you to fit more of the webpage on the screen or zoom in to read some interesting content.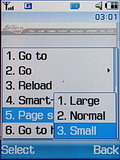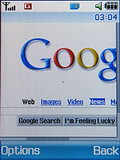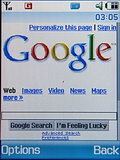 Web browser: applying different zoom level
Tools of the trade
The Organizer menu of the phone includes several applications: Calendar, Week view, Today's events, Schedule, Anniversary, Task, Memo, Missed event alarm. The Calendar application has both month and week view as the week view is the same feature as the Week view in the Organizer sub-menu. The Anniversary application is very useful and comes handy for adding birthday events.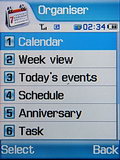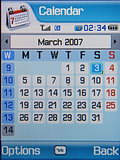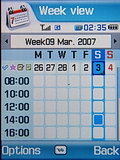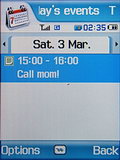 Organizer • Calendar: monthly, weekly and daily view
The Samsung Z560 also has an Alarm clock, a Voice memo, a World clock, a Calculator, and a Converter. The Alarms application allows for adding several alarms, which can be repeated on certain week days of your choice. The Voice memo application is a simple voice recorder which allows for up to 60 minutes of recording. Unfortunately, the voice recorder cannot be used during conversation.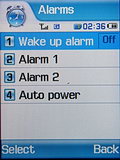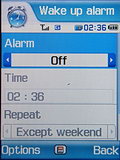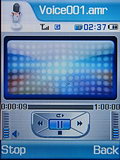 Alarms menu • editing an alarm • voice recorder
The World Time application is a simple graphical application seen on many other Samsung mobiles. The Calculator lacks any sophisticated features, while the Converter is for Currency, Length, Weight, Volume, Area and Temperature conversions.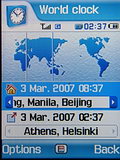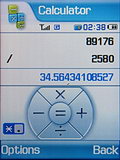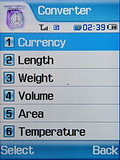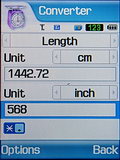 World clock • Calculator • Unit converter
There is also an interesting application which allows you to view the underground public transport maps of several major cities.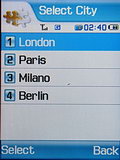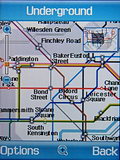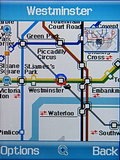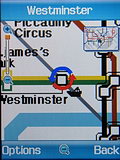 Underground maps: viewing London map • zooming in
Some old games
There are only two preinstalled Java games in our Z560 version and they're both not very amusing. In fact they are the same we saw in the previous model Samsung Z540. Power Inline X is a roller skate simulation. The second game is The Last Age which is a first person sci-fi robot shooter.
There is one more amusing application in the Z560 - the mPet application. Unlike Java games, it loads instantly and works fast and practically it is a revival of the Tamagotchi tradition. It has nice graphics and is pretty amusing.
Final words…
Well, the Samsung Z560 offers a really nice package. It features high-speed data transfers plus a nice 2 megapixel camera and a gorgeous display. As we managed to find out the touch-sensitive external music keys and the stereo loudspeakers are only eye-candy for the users as their implementation is not that successful.
As it turned out the Z560 primary competitor - the Motorola maxx V6 performs better in a number of aspects - a user friendly external display menu, a higher rated data speed, a better file manager, stereo Bluetooth and finally, a better camera. So we suggest that you opt for it, if you are looking for your next slim HSDPA clamshell.