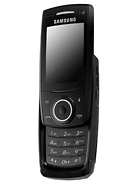 k
hi, iv had this phone for a wk now and i love it!! the only prob is that i cant set mp3's as ringtones, although it says everywhere that you can. how do i do this? someone plz let me no. thnx.
?
i dont believe putting fm radio necessarily means more bulk...sony ericsson and nokia incorporate it into all their phones but you cant quite say these phones aree bulky. Check the w830,w850,k750,w800,w810,. s for nokia check 5500 sport, 61631,6136, 6125. none of these phones are 'bulky' as some people are trying to say.
Samsung would realise more sales if they put fm radio in their handsets, rather than release an endless line of fones with little difference from the other!
I got an E770, but am waiting for the next one with FM radio, EDGE, 2mpxl camera or more, TV output, document viewer, mp3player with no limit on playlists and of course, not wider than 47mm!
g
does anyone know how to set an mp3 file that ive transferred onto the phone as the ringtone? everytime i go into the profile and try to change the rigtone, my mp3 files dont show.
D
Samsung did a decent job with this phone, I think. It has 3G unlike the little more interesting looking KE 600 from LG. But appears less exotic and high-end as the Hero from Helio. Nevertheless, This is probably my next phone. - Unless the Hero comes to Canada or the new iPhone from Apple appeals me more.
?
this is a great phone and people should get it into their heads that to put a raido in these phones it makes bulky its anice slim phone well done
?
what is with u people with ur dam fm radio? -__- it already has a great mp3 player, the reason y samsung doesnt put in fm radio in a PHONE is becuase theres no dam point its a stupid idea
s
i think its going to be a cool phone with all of its fancy "PHYSICAL" features. but it still lacks some features. why does samsung refuse to put fm radio features to their handsets? hmmmmmmm
Total of 172 user reviews and opinions for Samsung Z650i.