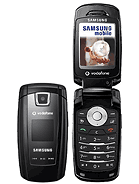 B
Its a great all-round phone. Its got all the fantastic 3g stuff for a cheep price now. did a bit o research and found dat its the cheepest 3g!
L
It boasts both an amazing external camera and a very nice, crisp and clear screen. Plus, I have never started the Media Player accidentally, as it requires the buttons to be pressed down for a while before it begins, just like the previous poster said. All-around a very nice phone well worth its money.
F
its a cool phone. bought it yesterday. and it doesnt start the Media playaer with a single touch of the external buttons, you have to hold them down. And the camera is ok.
j
This is wrong..please correct GSMarena.i have this phone from italy since 1 july.The camera is very poor, like 1,3mpx or worse and the external buttons are very annoyng because they start the music player every time you touch them.
?
Been waitin for a new flip phone (decent one) for ages. It seems ok, not the best, but i think its just an upgrade from most previous ones by having the 2MP camera. still looks good tho. It says silver on the description but looks black in the picture??
Total of 49 user reviews and opinions for Samsung ZV60.