Samsung's 2021 phones to drop support for older Galaxy Gear wearables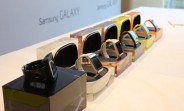 According to a new post in Samsung's Members app in Germany, upcoming 2021 Galaxy phones won't be compatible with some older Galaxy Gear warbles released between 2013-2014. The affected devices are as follows: Samsung Galaxy Gear, Gear 2, Gear 2 Neo, Gear S and Gear Fit. Users of these warbles will be informed via notification from the Galaxy Wearable app if their device will no longer be supported.
For the time being it seems the Gear S2 and Gear S3 won't be affected as they are not explicitly mentioned. Samsung also says that all current Samsung 2020 smartphone models will still be compatible with the entire Gear lineup.
Via (in Dutch)
Check the actual benchmarks for apple graphics and you'll realize you are confused. They are way more powerful. I'm not talking about the processor, that's a different thing and snapdragon is more powerful in some cases but the graphic...
A
This should not come as a surprise. Technology will always become obsolete and later dropped out of support. Previously I did use a Gear Fit 2, Moto 360 (1st gen), Garmin Vivoactive. Sold the Gear due to poor battery, Moto 360 is out of support from ...
M
I think you got confused. Even if Apple iPhone's GPU is powerful, actual performance of SD should not fall behind by a big margin. And considering why Chinese phones have extremely good gaming performance (despite clunky UI). I don't k...
ADVERTISEMENTS