Android 10 killed Android Beam, but makers don't seem happy with Google's proposed replacement. Samsung is expected to unveil its own alternative, Quick Share, at the Unpacked event for the Galaxy S20 and Z Flip phones.
This feature is similar to AirDrop, it allows you to share files with nearby phones. Strangely, it will be at least partially cloud-based – you will be able to upload a multimedia file to the Samsung Cloud and stream it to a Samsung SmartThings device. This comes with heavy restrictions though, files are capped at 1GB each (only a few minutes of 4K video) and you can transfer only 2GB per day.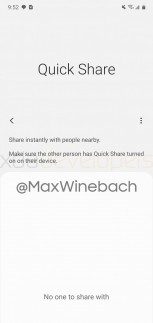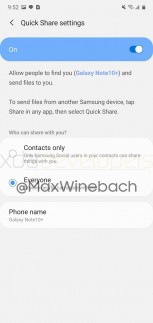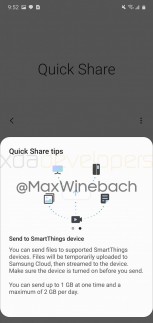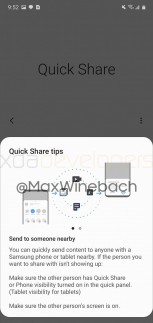 Screenshots of Samsung's Quick Share feature
It's not clear if files shared with other Samsung phones in proximity will also go through the Cloud, but it seems unilikely. That would eat into your data allowance. Plus, it wouldn't make sense to limit the sharing only to nearby devices, because Samsung already has a feature that lets you send files to anyone, anywhere.
Link Sharing has familiar limitations – up to 1GB files, up to 2GB a day – and it just gives you a link you can paste into any chat app. Following the link allows the recipient to download the file. By the sound of it, Quick Share just simplifies the "paste a link" step of the process.
Google is working on Nearby Sharing (formerly Fast Share), which will be integrated into the Google Play Services and will work offline.
Wary of future problems with Play Services, Oppo, vivo and Xiaomi teamed up to make their own standard. Multiple competing standards is usually as bad as no standard at all, but we'll see how this plays out.
Z
Yes, they had a feature with exactly that name, good catch 😃
D
That's since what version of Android?
D
Kinda prefer slow than not being able to send a frigging 3MB photo... And it's not even that slow and I never had it disconnect. Ever.
ADVERTISEMENTS