We just covered the leaked power banks that Samsung is expected to reveal alongside the Galaxy S8 and S8+.
The Galaxy S8's DeX Station (short for Desktop Experience) has leaked as well. This will enable you to hook up your S8 to an external monitor, mouse, and keyboard to interact with desktop applications for improved productivity.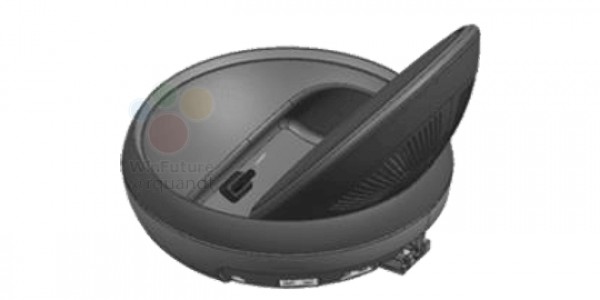 Render of the DeX docking station
The DeX Station will have two USB-A ports, an Ethernet port, a USB-C port for power, HDMI port for external video, and the standout feature is the dock's built-in fan that offers active cooling while you are switching between fifteen app windows at the same time (if you're a serious multitasker). Clearly, Samsung doesn't want to risk the dock catching fire while running external video up to 4K resolution at 30 fps.
Theoretically, you should be able to plug in an external USB-C monitor and use that power to charge the S8. Also, for the record, the Ethernet port is rated for 100Mbps, while the USB-A ports use 2.0 speeds.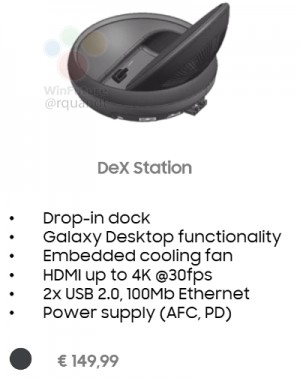 Product listing for DeX Station
The DeX Station's product listing also shows us a recommended retail price of 150 EU. We're looking forward to Samsung's event on March 29 to see the DeX Station in action, and also get a look at what other accessories Samsung has to offer.
Source (Translated) | Via
k
Yes it's nice to see Google beat MS in a feature MS should have had first. Honestly, I have a feeling Samsung will go down the path of full windows with it's DEX solution eventually. Samsung and MS have been partnering and Samsung wants to go all ...
D
Well, never used a phone for more than 2 years because​ it got replaced when I simply had the money or because I destroyed it, since 2010 I had only one phone with removable battery which was LG Optimus Black, very bad phone BTW, and LG has very bad ...
?
Are you kidding me or just lack imagination? How a lower capacity but removable battery IS a plus: 1) You can carry a spare at minimal cost and instantly double its effective capacity as the top up is instant (you can't do the same with mob...