Samsung's market share surges as North American smartphone market reaches five-year low
Consulting firm Canalys has just published its calculations for the North American smartphone market in the first quarter of this year, and the news is pretty dire. Overall, the market has reached a five-year low, with total shipments of 36.4 million units.
That's down 18% from Q1 of 2018, but it's not bad for all companies. Samsung, for example, has managed to grow its market share from 23.2% in the year-ago quarter to 29.3%, but because the market fell, that was accomplished with a sales growth of just 3% - from 10.3 million units last year in Q1 to 10.7 million between January and March of 2019.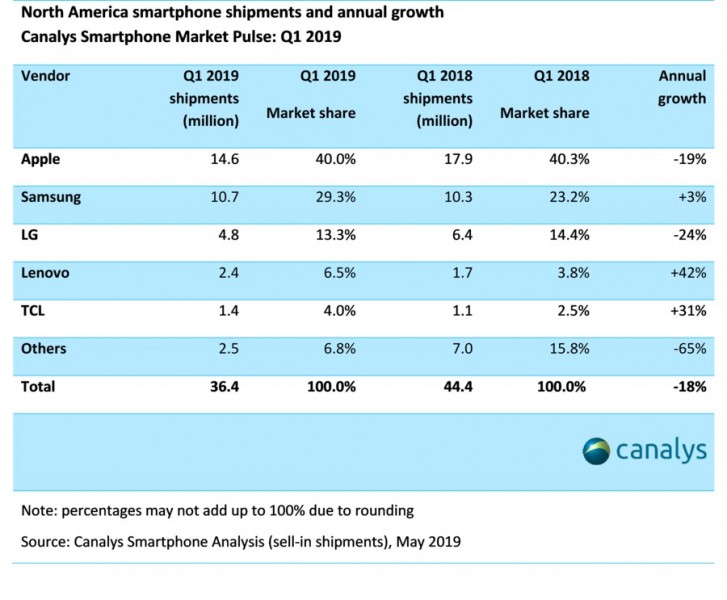 The Korean company's success can be attributed mainly to its new Galaxy S10 flagship line. In fact, the top three smartphones made up 25% of North American shipments in Q1, and two of those are Samsungs - the Galaxy S10+ and S10e, both individually snapping up 6% of the entire market, moving 2 million units each. With 4.5 million shipments the iPhone XR is the uncontested leader though, accounting for 13% of all sales in the period.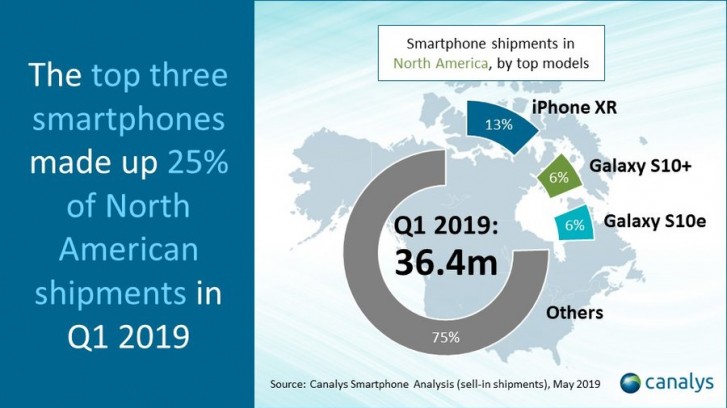 Apple also leads overall, with 14.6 million shipments and 40% market share, though both of those numbers are down from Q1 2018 when it sold 17.9 million devices and had 40.3% market share.
LG is No.3 in North America which could seem pretty odd considering how bad it's doing globally, and TCL's brands being No.5 is similarly surprising. Lenovo's No.4 position is probably entirely based on Motorola shipments, with that brand's recognition still being high in this region.
V
Three, dont forget Mexico
?
Samsung should be very happy about it with no competition in android phone, Stupid politics. Stop all those android makers from China to get into the us market. We all have to pay high price for those stupid phones.
?
The man is a genius, sure he says or does things he shouldn't have or he's a little thin-skinned but at least he's honest and direct with the American people. He knows how to troll those that hate him and his supporters get that and don't mind some o...