In shape droid
Samsung Galaxy Fit S5670 review: In shape droid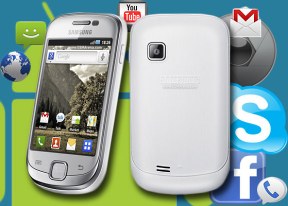 An average 5MP camera
Equipped with a 5 MP autofocus camera at the back, the Samsung Galaxy Fit S5670 can take photos with a maximum resolution of 2560х1920 pixels. Unfortunately, there's neither a flash nor a shutter key to aid you when your using the camera.
Despite the camera's shortcomings, the user interface that comes along with it is touch-friendly and has great built-in features such as smile shot, preset scenes on-screen guidelines and panorama mode. It's basically the same interface you get on a Galaxy S.
For a 5MP snapper, the camera on the Samsung Galaxy Fit S5670 is decent. Noise levels are low and there's a decent amount of detail in the photos although you can see smeared detail in various places, probably due to the noise reduction algorithm.
The photos usually turn out with pleasing colors and contrast. If you haven't got a camera with you the Galaxy Fit will do the job and capture the moment but compared to a Galaxy Ace it just fails to impress. And keep in mind that once it gets a little dark outside the Fit will be completely useless.




Samsung Galaxy Fit S5670 camera samples
We also shot a couple of macro shots with the Galaxy Fit. It doesn't do well in under 10cm so you better not push it.




Samsung Galaxy Fit S5670 macro samples
The Galaxy Fit lacks touch focus which isn't a complete deal breaker but coupled with the lack of a hardware shutter key does make the device feel inadequate while shooting.
Photo quality comparison
The Samsung Galaxy Fit S5670 enters our Photo Compare Tool to join the other 5MP shooters. The tool's page will give you enough info on how to use it and what to look for.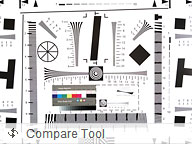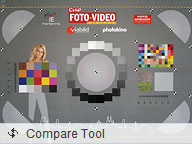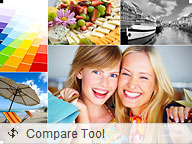 Samsung Galaxy Fit S5670 in our Photo Compare Tool
As you can see the Galaxy Fit produces images with nice warm colors but it lacks in the contrast department, ending up short of the HTC Wildfire S and the Galaxy Fit.
QVGA video recording
Naturally, the Samsung Galaxy Fit offers video recording too, but as it's only QVGA at 15fps, we wouldn't use it for anything other than MMS (and maybe not even that). The video recorder's UI looks similar to the camera's interface.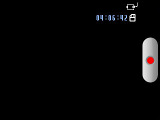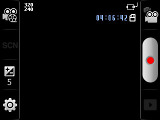 Camcorder interface
It's a real downer that a device with a 5 MP camera (which is still considered a good resolution in smartphone terms) and a 600MHz processor doesn't even do VGA video recording.
Here is the untouched video sample from the Samsung Galaxy Fit.
Connectivity
The Galaxy Fit is ready for worldwide roaming with quad-band GSM/GPRS/EDGE and dual-band HSPA with download rates of up to 7.2 Mbps.
The connectivity pacakge offers Wi-Fi (b/g/n), Buetooth v2.1 with A2DP support and USB v2.0. The USB interface is standard microUSB, which makes finding a suitable cable a lot easier.
Android 2.2 Froyo enables Bluetooth file transfers, so there's little else to ask for.
The Samsung Galaxy Fit doesn't pack much internal memory (158MB is downright low for app installation), but it comes with a microSD slot with supports for cards up to 32GB. Thanks to Android Froyo you can install compatible apps on the SD card.
The 3.5 mm standard audio port completes the connectivity tally. You can keep your favorite headphones and use them with the Galaxy Fit hassle-free.