Save $50 on the HTC U11 with 6GB of RAM and 128GB of storage with a promo code
You can now pre-order the top of the line HTC U11 model in the US, the one which comes with 6GB of RAM and 128GB of built-in storage. It is only available in silver, and you need to grab one unlocked from HTC's online store. It will start shipping in August, and if you haven't had a chance to pre-order one yet, here's some good news.
Although this variant is normally priced at $729, you can purchase it for just $679. All you need to do is apply the promo code AMAZINGU11 at checkout. This code has been around since last month, when we discovered it saved you the same $50 on the entry-level U11 model, the one with 4GB of storage and 64GB of storage. It was supposed to only last until July 1, but it stuck around and now it works for the higher-end version too.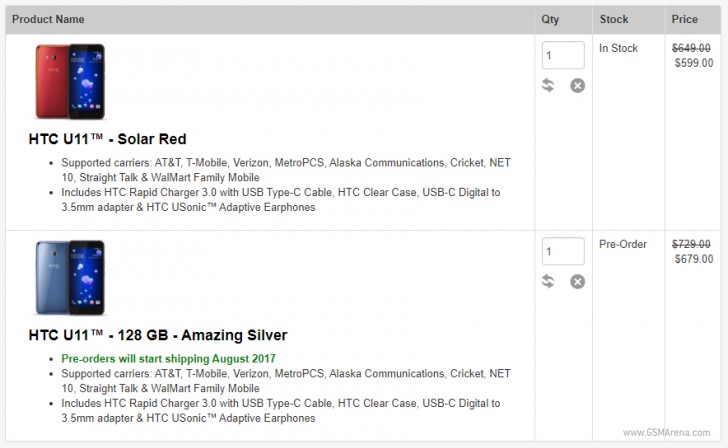 That said, you can still use the same code even if you buy the 4GB U11, it will take $50 off its price as well, thus letting you buy one for $599. In fact, you can apply the code without a hitch even if you have both variants of the phone in your cart, as seen in the screenshot above - and it will save you $50 for each handset.
The first promo code taking $50 off the price of the U11 arrived on the day the smartphone launched, so this is hardly surprising. This strategy could however prove to be slightly irritating to those who ordered one without knowing about these codes - if they ever find out they could have saved $50, that is.
D
What? At least do your research and don't lie. The internal ram is DDR4... been like that since the HTC 10 last year.
D
High-end Android phones can rival iPhones in price. As far as I know, most high-end Android phones that costs $600 last year are easily selling for $400 new and $300 used today.
D
Obviously, you have never held a HTC U11. Trolling around is quite ridiculous. The U11 feels quite similar to if you were to hold a Samsung Galaxy S7. Both have metal that holds the glass together. It feels nothing like plastic.