The Apple Watch is among the best-selling smartwatches around the world. Many have praised its communication and safety features and the Apple Watch's fitness abilities are well executed. One thing missing, however, is native support for Sleep tracking. There have been third-party applications that offer some way to track sleep, but they are not as convenient as automatic tracking that other fitness bands offer out of the box.
The latest hint that Sleep tracking could be coming soon comes from a screenshot spotted in the Apple Watch App Store. In the release screenshots for the Alarms app is a notice that mentions an unreleased app called "Sleep". This would likely be the name of an app used to view sleep data from the Apple Watch.
The screenshot below was taken before Apple removed the small text from the Alarms app screenshot.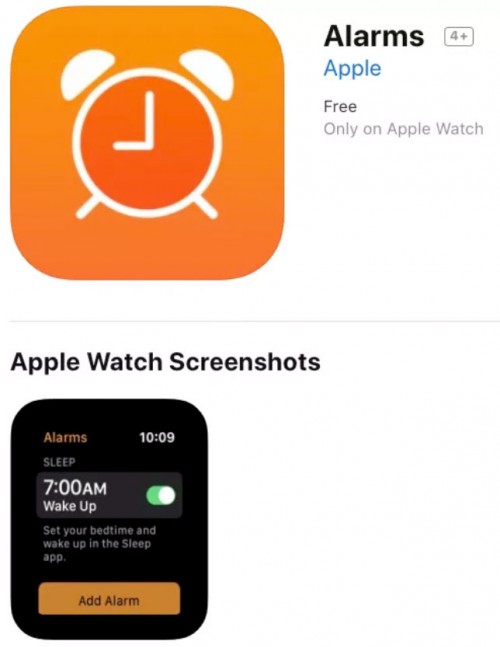 The text in the screenshot reads "Set your bedtime and wake up in the Sleep App." This would presumably let the Apple Watch wake the user in an optimal sleep cycle leading up to the user's preferred wake up time.
A strong possibility is we might see native Sleep support arrive via a watchOS update. We'd assume only one or two of the latest generations of Apple Watch will support the feature at all. We do wonder how Sleep tracking would affect the Apple Watch's battery life – particularly when users are accustomed to charging their Watches at night before bed.
It has been previously rumored that Apple would finally add sleep tracking to a new Apple Watch and with the release of the Series 5 Apple Watch, there is still no official word on Sleep tracking support.
A report from 9to5Mac last month claimed that sleep tracking would be arriving with the name "Time in Bed tracking" which could "track the user's quality of sleep using its multiple sensors and inputs, including the person's movement, heart rate, and noises. The information could then be analyzed and reviewed by either the Health app or an unreleased "Sleep" app.
D
That's not how batteries work you know...
M
But after 500 charging your battery is dead .. $500 for 18 month of use.
?
before i got series 5 ( cellular) i had series 2 and got 2 days out of that with little activity on the watch. thank you for the info i have taken of the raise wrist feature hopefully i will notice a diference
ADVERTISEMENTS