Earlier this year Samsung trademarked Eye Scroll and Eye Pause and a couple of days ago the eye scrolling rumor reappeared. Today we can add several screenshots to the evidence that the Samsung Galaxy S IV will have both of these features.
Update: It turns out that the tipster sent SamMobile the wrong info - the screenshots are from the Android 4.2.1 update for the Samsung Galaxy S III. The Galaxy S IV will have those features too, but those screenshots are not from it.
These screenshots have 1080p resolution (note: we downscaled the screenshots to make them easier to view), which also confirms the screen resolution rumors, and are our first look at Nature UX 2.0. Too bad it's just the settings menu, which look unchanged.
Anyway, Smart scroll joins the list of Smart screen features – just like the rest it will use the front-facing camera to track your gaze. It will start scrolling automatically when it detects that you're looking at the screen.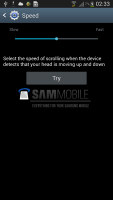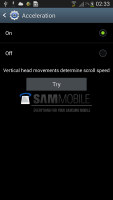 Smart scroll and Smart pause options
By the looks of it, it won't track your eyes but your whole head – that is it will scroll vertically while you're looking at the screen and tilting your heard vertically will adjust the scroll speed. There are options for acceleration and visual feedback.
The second new option, Smart pause, is simpler but very useful – it will pause video playback when you look away from the device. This will do for watching videos what Smart stay did for reading.
The Samsung Galaxy S IV is due for official announcement on March 14 and we'll be there live.
?
When will this phone be available in indian market? Waiting eagerly for it
K
Does anyone realize that this Eye Scroll feature could be used by advertisers to determine what adds you are looking it, if any? This will be an advertisers dream in the world of analyzing "Big Data" and result in more targeted marketing ad...
?
The best phone in the world.keep in going Samsung.
ADVERTISEMENTS