We really liked MeeGo, for as little as it lasted, but MeeGo is dead. Long live Tizen! Someone got their hands on the Tizen SDK and snapped several screenshots. Note that they are not from a real device but from an emulator. Still, it's a preview of what we can expect.
The SDK is supposed to come out in Q1 of 2012, so seeing a preview of it at CES (which is currently ongoing) is likely. When the phone will appear is another matter (also, what happens to the MeeGo-powered Nokia N9 and Samsung's Bada OS?).
Anyway, here are the screenshots in question. They can almost be confused for Bada screenshots, with little remaining of MeeGo's innovative design.
Interestingly, the Tizen SDK reports the browser's user agent as Samsung I9500. The odd thing is not that Samsung is working on a Tizen phone, but that the I9xxx line is usually for their flagship Androids - I9000 Galaxy S, I9100 Galaxy S II, I9250 Galaxy Nexus. We've already heard of the I9500 as the Galaxy S III (in a leaked camera sample).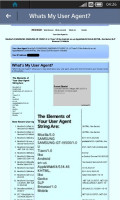 User agent is reported as "Samsung I9500"
Just a reminder - Tizen is a collaboration between Intel, Samsung (in Nokia's place) and the Linux Foundation. It will apparently rely mostly on HTML5-based apps (ala WebOS and Windows 8) and will probably be a pretty major overhaul of MeeGo, so we won't see it straight away.
v
Is it just me or every single mobile GUI looks exactly the same? Just a bunch of icons with no sensible order and maybe a bar at the bottom.
K
There's no reason not to use galaxy 3 for development purpouses...after all Galaxy S i9000 and Samsung Wave I have the exact same hardware, but the smaller screen (same resolution!) and all metal body of Wave.
D
it's the same as any other UI unlike the unique N9 interface.
ADVERTISEMENTS