Search engine and browser alternative pop-up rolling out for Android in EU
In April, Google announced that it would comply with feedback given from the European Commission on the way that Android carries itself with Chrome and Google Search. In order to make the playing field fair for other web browsers and search engine providers, it will kindly and easily offer the user to download and install other web browsers and search engines.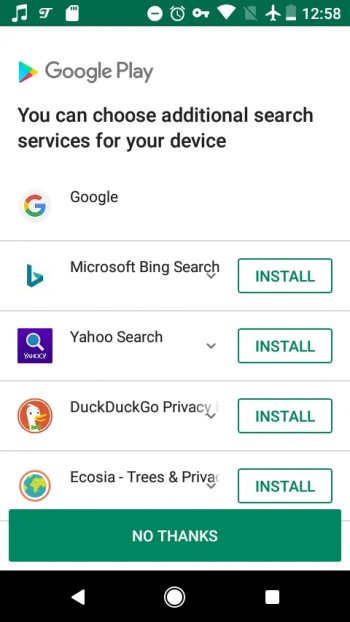 Source: Android Police
The update was set to hit over those coming weeks and we're already starting to see the pop-up prompt at least one user to install extra search engines and mobile browsers.
One of the readers over at Android Police has revealed that the change Google announced was already taking effect, albeit not to everyone in Europe just yet, but it should be rolling out over the coming days.
Once you do get the update, a new prompt will show itself once your Google Play Store is updated and will ask you whether you'd like to install any other search engines or browsers outside of Google's offerings.
?
There is an order of magnitude of difference (more likely several) between what most businesses collect and what companies like Google do. Google's collection is effectively impossible to avoid, regardless of whether you've ever used any of their se...
a
Collecting data from a person is a normal process in today's era of information technology even if you apply for a job they ask your personal information, run a credit check etc. even if you dine in a restaurant nowadays they ask your personal info...
L
Yes they should only pre install their Appstore with their other apps uploaded there so you get bloatware free phone