The Samsung I9295 Galaxy S4 Active has been in our rumor mill for quite some time. The latest leaked shots reveal that the Active will be a tougher dust and water resistant version of the Galaxy S4 flagship.
The specs are expected to be the same and the live pictures below confirm it - the device is running on a quad-core 1.9GHz processor with Adreno 320 GPU, which most definitely means a Snapdragon 600 chipset. The screen supposedly has the same size and resolution as the original Galaxy S4 - a 5.0-inch 1080p unit, though it's unclear if it's a Super AMOLED one or not. Strangely enough, the reported pixel density of the phone is 480ppi, so the display might actually be smaller.
Our tipster also confirmed to us that the Samsung Galaxy S4 Active has an 8MP rear camera, which is a downgrade from the 13MP sensor of the Galaxy S4.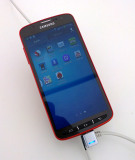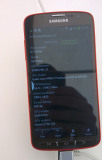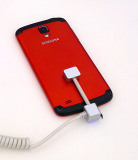 Samsung I9295 Galaxy S4 Active
Despite the similar specs, the Galaxy S4 Active looks nothing like the original. It comes in a metallic shell with bolts on the back, and there are also three hardware buttons below the screen.
There is no official info on the Galaxy S4 Active yet, but as it turns out the handset has been showcased recently in Croatia, so an announcement is imminent.
Thank you, Leon Majceni, for the great tip!
?
Well then they wither buy this or dont have it. Every other phone that is not made with water proof or as a brick is the same way...Sony, Moto, Sammy, HTC, Crapple, and so forth...what's your point?
D
what happens when you need the extra protection and you don't have the ottie case in reach?
T
Lol, thankfully there are heavy-duty cases like Otterbox and available waterproof thin film like Ottie. I still can turn the Note 2 with shock and water proofing with trouble of buying these accessories, than settle something that doesn't have what I...
ADVERTISEMENTS