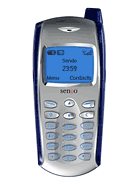 T
wanna ring tones 4 your s230,s200,p200,s300,j520,j530...... 4 free!
so go to this site www.mrtones.com select as nokia 3310 then use the composer in your handset & compose the imelody as it appears in the graycolor letters
ENJOY IT!
a
I dont have use sendo mobile I need to buy one Ido know where to get I live africa ,tanzania
a
sendo is one of the greatest mobile phone in the world.Ilove sendo.
Total of 8 user reviews and opinions for Sendo J530.