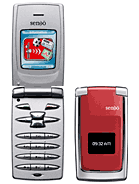 B
Hi does anyone know the realease date for this phone and what the price will be?
Thanks :-)
m
what???it nice phone because it with clamsheell with internal antenna.this like sonyericsson Z.1010,but i dont like sendo,cause i like sonyericsson,nokia,siemens,samsung,and motorola.Thanks
B
I think some of you are missing the point with this phone it is basically for people who just want to text and make calls with a bit of class, it just one step up from having a black and white screen it not claiming to be any thing else and i think it does the job. And knowing Sendo it wont cost the earth which is brill i think it looks great1
N
hmmmmmm i seen a fone that looks like this somewhere else!!!! why not take a look a the sonyericsson z1010!!!! not one is fuckin original anymore

C
addition to my comment below...even though its a wonderful looking phone, feature-wise its not so rich.
N
In my own gout, this fone is the cutest fone in this living world.I love it.
I wish I will be sold in Vietnam.
Please let me know you will sell it in Vietnam or not. Otherwise, in November 2003, my boss will take vacation in Malaysia, please let me know where he can find it in Kuala Lumpur,I will send him money to buy it for me.
Thank you for your soonest reply
S
It looks superb! It is the most beautiful folded phone I've ever seen. But phone's features are poor. It has no MMS support, no voice dialing and no Java support. I think these are big imperfections.
J
Those Samsungs women phones are not even near to this master peace-realy good qality-price range.
Total of 275 user reviews and opinions for Sendo M550.