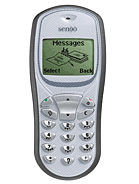 b
Mrs le portable sendo est un mangifique bijou je cherche le logiciel pour qu'il accepte tout les cartes sim
h
dear sir i think sendo s300 is a good mobile in iraq.
please send me ringtones by e-mail if available
c
dear sir/madam i bought one of your phones which is the sendo s300.unfortunately i am in africa so you could help me get the nck code to enable use the phone.
your reply to this letter is very important to me.
thank u.

D
I think Sendo S300 is a perfect cellphone but the eccessories are not as much as other marks

T
wanna ring tones 4 your s230,s200,p200,s300,j520,j530...... 4 free!
so go to this site www.mrtones.com select as nokia 3310 then use the composer in your handset & compose the imelody as it appears in the graycolor letters
ENJOY IT!
C
i have an s300 and it only has French, I want the menus in English - Please how do i go about loading the English language as well, the menu only shows one langage. Hope to hear from you soonest. Thankyou.
e
i am having problem with the charging system of s3oo model. when i plug the charger the set wont charge.
pls what do i do cause i have worked on the charging point but all to no avail.
i
I bought a sendo mobile phone but i have the following problems;

- the book is written in a language i do not understand.
send me a soft copy of an english book by e-mail.

- secondly,what can i do to change the phone language to english.
b
good value. reliable funky mobile, haven't had a moments drama - all well wit it
Total of 75 user reviews and opinions for Sendo S300.