Photo
Since Instagram popularity exploded, camera replacement apps that come with cool real-time effects have started to spread like wildfire. Understandable, given that stock Android camera app just doesn't offer much flexibility when it comes time for advanced fiddling with the settings.
Luckily, there are great camera app alternatives out there. Some of them may not be as popular just yet, but they still do a solid job.
Camera 2
If you think Instagram has a lot of filters, then you should check out the Camera 2 app to have your jaw hit the floor. The app has effects ranging from classic (making a photo look like it has been taken in the 20's, 40's, 50's, 60's 70's or 80's) to lomos, comic, sci-fi and art. And you're not limited to the resolution of the photos you can take an apply effects to. Even video recording with all of the effects is supported.
Moreover, you can tweak each effect to your liking as well as add animated effects. They look really funky, and the Camera 2 app allows you to share them with your friends with ease.
Get Camera 2 ($2.99)
Handy Photo
Handy Photo focuses its efforts on photo editing and retouching. The app sports numerous effects, features and styles to easily and quickly apply to your existing photos. You are not bound to just making the photo sharper and punchier, you can manipulate it as well by moving objects around, for example.
The app supports applying different frame styles, textures, and photo filters with ease. You can modify large resolution photos, too (2GB needed for 24MP shots).
Get Handy Photo ($1.99)
Paper Camera
Back to applying filters to photos, there's Paper Camera, which is currently the easiest way to make your photos look like you've drawn them with a pencil. The app doesn't have a plethora of options, but you can choose how thick the lines can be and what type of effect you want to achieve.
It's a great app if you intend to make a comic book out of your photos without spending hours in Photoshop.
Get Paper Camera ($1.99)
IM
Schemes (Scheduled Messages)
If you've ever used a text service for sending personal messages, chances are you've had a need at some point to send a message at an exact point in time. Schemes comes to the rescue, as one of the best scheduled messages app for Android.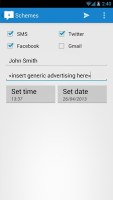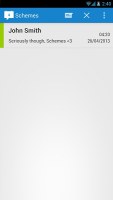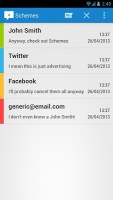 Schemes
Schemes works with regular SMS, Facebook, Twitter and Gmail. It's great for sending birthday wishes at exactly midnight or sending a business email right on the hour. Neatly, all SMS messages are added to their respective threads in the Messaging app.
Get Schemes (free)
Ninja SMS App
Yet another replacement app, Ninja SMS is destined to be a lightweight alternative to the famous Go SMS Pro, Handcent SMS messaging replacement apps. The main feature of Ninja SMS is its support for multiple floating messaging windows at the same time. They are totally customizable and can be moved all over the screen as well as minimized, and of course - closed.
The app integrates a similar approach to the Facebook Chat heads when a message window is minimized and shows a photo of the person you're texting in a small floating box. You should give it a shot, as its free on the Play Store.
Get Ninja SMS App ($1.50)
Google Hangouts
Hangouts is Google's latest attempt to unify its handful of messaging services (Google Talk, Google+ Messenger, Gmail Messenger). It's cross-platform and features notification syncing meaning that if you read a message on your phone, it won't appear as unread on your PC or tablet.
The app comes with support for video chatting with multiple people from your Google+ circles. Hangouts also supports different features from GTalk and G+ Messenger such as saving chats in history, setting a status and a mood, a ton of emoji icons as well as going off record for when you don't want to preserve a chat history.
Get Google Hangouts (free)
MightyText
Last, but not least, there's MightyText - an app designed especially for the Android platform that allows you to sync SMS texts to your PC, read and respond right from the comfort of the big physical keyboard. Once you receive a new SMS text, your are immediately notified.
The app even notifies you when there's an incoming call. This way, you know right away who is calling. We urge you to check it out if you live and breathe SMS. It'll save you quite a lot of time both in writing and reading. Not to mention it's free on the Play Store, so you have nothing to lose checking it out.
Get MightyText (free)