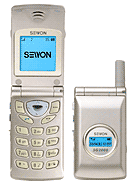 a
i want to know how many price in the sewon sg-2000 and company name in the this phone
d
may i know the code number for the sewon mobile phoneused in the Taiwan tv drama MVP Valentine??
I really like that model
I wonder if the model isSG-2000
Z
As the other people are searching screen for ther phones sg2000 and my screens on my two phones are spoilt but there are no distribution and selers and services in my contry Macedonia soo please if ther is anyone who can help me to find two screens for my phones or direct me where i can find it i will be very greatfoul for it .. please contact me on my mail.
regards
Zoran Nikolovski
C
hello sir, compliment of the day. i bought two sewon sg-2000, one for me and the other for my girl friend.four months and some weeks later, the screen got spoilt (the two phones), and here in my country (nigeria)i can not find people that can fix it.please sir,i will be the happiest person on earth if you can get my phones screen working again cos we love the phone so much. i look forward with eager anticipation to hearing from you. god bless.
m
dear sir,
i am a user of a sewon 1000 phone but the screem is faulty so i will be ahppy if you can send me another one or give me a user guide cos i lost all the packet in a fire accident.i am really in need of it cos i cant even know when i have calles nor even read text messages.
sir i will really appriciate it if my reques is granted.if u know u can get me a new screem i will like u to send me a users guide so i can operate me phone.please sir i will be waitin for ur quick response.you can send an online users guid.
hope to hear from u sonn.reanain blessed.
mr joseph ikechukwu egbuchiem
A
dear sir, i have been using my sewon sg2000 for over 2 months now but the screen got spoilt so i really need another one to replace it cos i cant afford to buy another phone. am in nigeria .my address is 131 aba oweri road aba abia state nigeria.
L
Lydiah Naipanoi
PO Box 14581 00100 GPO
Nairobi
Kenya
Tel 254 20 2730821
Telefax 254 20 2730683



Customer care



Subject : Mobile charger for a Sewon, SG 2000

Kindly sell to me a mobile charger which i desperate need to access my phone.

The phone details are:
Sewon, SG 2000

I'll be very grateful to receive a price list (quotation) from you since i have searched from many dealer
hear in Kenya and cannot get one. You could also refer me to your phone dealers in Kenya
where i can get the charger or send one to me directly.

I'll be very grateful to hear from you at your most convenient time possible

Thank you in advance


Regards

Lydiah
N
I have purchased a new sewon SG-2000 phone from dubai.The problem is that the user manual provided is fully in urdu and not in english.How and where can i get a user manual in english.Also how can i switch off the dictionary while messaging my friends.I dont want the dictionary to function while messaging.how can i switch the dictionary off.
S
Design is so cuted but some time this mobile auto off and some time no connect. Colour is so bad. I don]t like it.
M
i leav in israel i need to bay a new charger for my sewon 2000 pls help me to do it
a
Hi i have a Sewon SG2000 phone and the screen is spoilt and cannot get a replacement,is it possible to get one maybe by Dhl i really dont want to by another phone i love my phone.If possible please pls mail me the requirements as i live in Kenya in the capital city Nairobi.Thanks and looking foward to youre quick response.
T
This is my true lovely mobile phone I ever had. All the functions run very well. Its size that very small make me easier to bring it. Can place it in my pocket or hang it on with neckstrep. About the performace. Overall is very good. I satisfied using it. Easy to dial and receive a phone call. I dont need to place it near my ear when talking by phone coz there is a speakerphone on it. The menus can use easily using the fix icons. I enjoy with the 16 polyphonic ringtones, also the sms is good. I have two batteries; standard and thin one. The batteries performace is quiet good. It's about 3 or more days longer life. I like the color that I have i.e. blue. The network signal is very good. I can still received a phone call when I am in the basement of the building. Even,when I am in the lift, no problem at all. I am proud using it. Everybody always shouted "Wow so cute!!!" when looking at my SG2000. I've been using it for 2 years. And No Problem. Thanks.
Total of 34 user reviews and opinions for Sewon SG-2000.