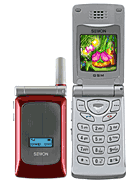 s
Seems like I am the only one posting messages in this section. Is this phone available in India? By the way it was me who posted the second message.
?
I can't actually believe that the first comment was posted 2 years ago!!! God knows where the guy who posted the first messsage is. Anyways, all i can say is it's time this company started some other business.
?
ohh sorry...
I wanted to say is there anybody buy these kind of mobiles??
Total of 3 user reviews and opinions for Sewon SG-2320CD.