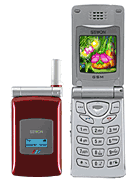 g
hi sorry for my english i'm frensch!please where i find drum kit for sewon sg2890cd please thank you
z
Yes they do look alike, but all on same guts. What they'll be doing is making lower numbers of each and letting there be more of a selection, as covers would comp the strength of a unit that size.
K
I purchased the above mobile ph last Friday in Bangkok and unfortunately the manual is in the Thai language. Is there an on-line manual in English?
?
yes i think it is a copy of the sendo m550 as the vortex is in the same place
Total of 7 user reviews and opinions for Sewon SG-2890CD.