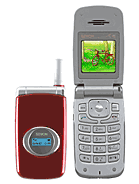 v
Hey Will, I suggest that you go in for the sony. I am sure you know that all the best stuff in the world come from Japan. Besides, I have never even heard of this company. Also, Sony Ericssons are very popular here in India. The bottomline is w810i is the best bet.
w
it is good for making calls. you can hear the other person and sometimes the other person hears you. the clock is also very accurate if you set it right each day. toss up between SonyEricsson w810i and this one. not sure which one to choose, help choosing would be good! thanks in advance
Total of 2 user reviews and opinions for Sewon SGD-102.