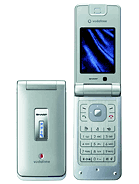 n
the phone is gonna be on sale in vodafone uk stores in May. Available free on most contracts or box only £150. Very good value id say.
K
3G and MP3 is niice, but the razr copycat strikes again.... freekin ghey.
C
This is ridiculous. One of the legendary clampshell companys adopt the razr flat style keypad? It's a shame to watch sharp do this with design.
s
You can tell it's European:

- Slim
- Metal Keyboard (Like RAZR)
- low-end features, but 3G
- AWESOME design (SEXY)
- Music Player & miniSD

Great Phone!!!


I
I think Sharp got good visual quality and good features in itself, but in users daily life, only visual quality and features dont matter, I think Sharp staff must look at their battery consumption. Their battery life is too low to compare with others. Once Sharp took hold of it, u will get a good scope comparatively.Thanx
Total of 349 user reviews and opinions for Sharp 770SH.