Sharp Basio 2 is an oddball of a 5-incher with physical Phone and Message buttons
Sharp has come up with a rather unorthodox smartphone offering, likely limited to its home Japanese market. Looking at the specsheet alone there's nothing all that spectacular about the Basio 2 SHV36 (except perhaps its name) - a 5-inch 720p IGZO display, Snapdragon 617 chipset with an octa-core CPU, 2GB of RAM and 16GB of storage make for a run of the mill midranger.
After a glance at the photos though, it immediately becomes evident that the Basio 2 is no ordinary smartphone. While it does run Android 6.0 Marshmallow, its control arrangement has little in common with the standard Back/Home/Recent setup. Okay, the Home button is there, but you get Phone and E-mail buttons on its either side, all three of them physical.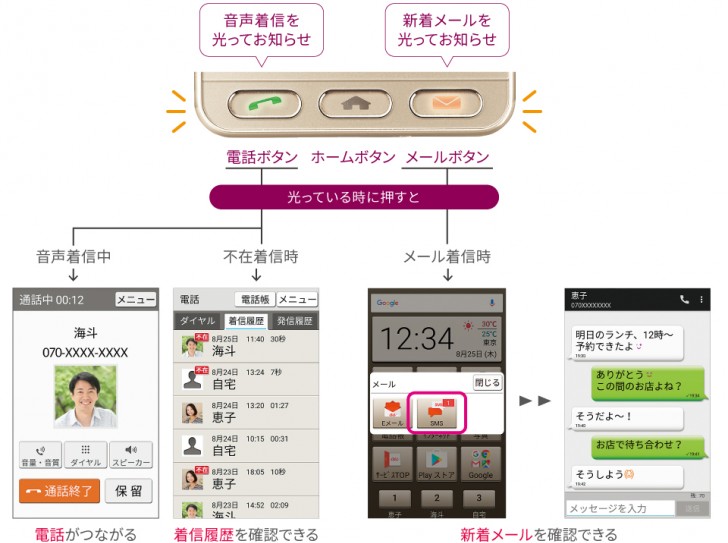 The two give quick access to the dialer and call log, and emails and text messages, respectively, and also feature built-in LEDs for notification. On top of that, literally, the bottom portion of the display can be reserved for three shortcuts to frequently used contacts. Another software feature is a built-in magnifier, and by now, it should've gotten clearer who the Basio 2's target audience is.
The peculiarities continue on the back, where the 13MP camera is protected by a sliding cover - like in the good old days. The LED flash is on the outside though, presumably to be used as a flashlight when the camera is covered. Additionally, there's a physical shutter button.
Another important feature is the IP55/IP58 certification for protection from the elements.
Those curious bits aside, the phone comes with standard connectivity options, including Cat. 6 LTE, Wi-Fi b/g/n, and Bluetooth v4.2. The battery powering things is a 2,810mAh unit.
The Sharp Basio 2 SHV36 will be available starting August 5 in three colors - blue, red and gold.
?
I cannot make phone call,what should I do?
?
Sharp has been making wierd but interesting designs lately.... Just wish it'll be available globally.
M
This is vintage people. It will get expensive in the long run. Wish i still have my 5110. Lol