Sharp introduced two new GSM clamshell phones - the slim SH6010C and the 8 megapixel SH1810C. The SH6010C is a mid-ranger in a stainless steel body, while the high-end cameraphone will rely on its 8 MP CCD sensor, 6-axis accelerometer and WVGA display resolution to attract consumers.
The new handset announcement for the Chinese market certainly caught us by surprise. We haven't seen a new GSM handset from Sharp for quite some time now.
The first and more impressive handset is the 8 megapixel Sharp SH1810C with flip design. Sharp have chosen a CCD sensor for their camera - it's more energy hungry than the CMOS ones, but with presumably lower noise levels.
The SH1810C features a 3-inch TFT screen with the WVGA resolution of 854x480 pixels, external one-row display, video recording at 30 fps, camera flash and 6-axis accelerometer. The Sharp SH1810C is an ordinary tri-band GSM with GPRS/EDGE support. There is no 3G connectivity but China doesn't have a consumer 3G network yet.
The slim Sharp SH6010C is the second device. It features a 3.2 megapixel snapper, 2.6-inch TFT display with 400x240 resolution and 262 000 colors, stainless steel body with 12.9mm thickness.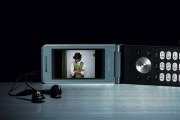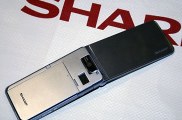 Midrange Sharp SH6010C and its external display
The interesting thing about SH6010C is the small external monochrome display unusually embedded on the back near the camera. The phone will come in five different colors - silver, gold, black, pink and blue.

There is no information on prices and availability on both phones.
?
Funny comment, the only devices that don't play mp3 are docomo (except the se docomo phones) :)
?
PLEASE do go to youtube and view on this 930SH japan' model ad...then you will know how pro they are, not your what...nokia, se...samsung...etc...Japan mobiles are the first to be in the high tech mobile trade...japanese no need a computer or a lapto...
?
WELL SAID, LED disco is the best I ever seen on phones man....SUPER COOL...on my 903SH...now that the ccd is back on this baby, i am gonna get the china version...
ADVERTISEMENTS