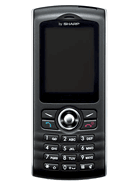 h
Lovely phone, pity its bluetooth function doesn't extend to being able to pair bluetooth handsfree units. I have two motorala handsfree units the HS810 & HS 800 and neither will pair up with the phone. Has anyone any suggestions?
f
I've had lots and different mobiles in the past and now i've got the sharpgx17..
it's a very good mobile,good brand..+ offering lots of features.I's great having it!!
N
Bluetooth problem. I bought a GX17 and a Bluetooth USB dongle from Vodafone. The PC and the phone say they have recognised each other but they just won't connect. Anyone know of any fixes / software updates?
N
i am really surprised, i don`t know why all those bad comments i really love it and altough it has litlle memory it still have an exellent camera... i love it

D
You can't transfer any kind of java applicaton by IRDA. Has 1,4 M memory. It is not possible to upload more than 70k filesize. This is not so good...
d
I think this would be a great phone and id be willing to buy it..if i roughly knew it's memory =/
N
Differences between GX15 and GX17:

has email client
different version of Java
standby longer 290vs232hrs
talk time shorter 3.5vs4hours
Additional GPRS slots
Very slightly longer and heavier

All data relating to GX17 from this site. GX15 from Vodafone website
m
I agree with Dan. Have had GX15 for a long time now and this seems to be very comparable. Hope it's as well priced when it hits the shelves.
d
t610 and k750 cross. no way.
its basically a different colored gx15. not an imitation of any other phone manufacturer
Total of 292 user reviews and opinions for Sharp GX17.