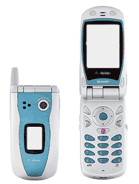 D
This phone really sucks other than its picture quality and its camera it is way to big
m
I don't know about you but i recon sharp should start using SYMBIAN!! I think with their excellent features, symbian would just be the extra topping. think of a sharp GX30 with symbian OS. how much more power would you want. it would be the ULTIMATE!! wow, or a touchscreen on the TM100 with symbian and UIQ. IT would just be a copy of the P900 but what the heck, I would still buy it. PLEASE SHARP HEAR MY CRY.
D
what the...........lol.........pffft wot a pathetic fone it dont even look nice and its on t-mobile lol now that just completes it eh wot a load of shit....duz anyone agree
S
well this phone's colour looks bad...i don't like it... is not even better then TM 100
S
Hmmmm...The phones style is kinda boring. A mix between the GX30 and GX20. With this exact color scheme it looks like if someone put a bathing suite over it.
Nice features though, even though I wouldn't want to switch back to TFT. 256k color will do though. An SD extension is beautiful, but does it play MP3s?
I'll need to find more details on this one, but it looks allright.
Total of 209 user reviews and opinions for Sharp TM150.