Indulge me for a moment whilst I give you some context
I'm no longer the Apple 'fanboy' that I once was, that shine has long since been rubbed away for reasons that I won't go into here. My wife would disagree with my rationale though, she'd tell you that as I'm older now, the term 'fanboy' simply wouldn't be appropriate! I get the sense I need to introduce the term 'fanman' into our vocabulary. That aside, my family and I are so deeply entrenched into the Apple Eco-system that changing now would require simply too much energy, and of course money.
My eclectic music collection was created by 'ripping' all the CD's that we owned into iTunes and supplemented by digital music purchases, all being stored in the cloud with iTunes Match. My iPhone had consigned my various iPods to eBay and we enjoyed our music in the car, through Apple TV and via Bluetooth speakers from several brands scattered around the house.
So it will probably come as no surprise that when Apple Music was launched in 2015 I jumped on board. Immediately my listening habits changed and I've never purchased a single track or album since.
Through this paradigm shift in my music consumption habits, the one iPod that stayed with me was my trusty 4th Generation iPod shuffle, because it was a perfect fit for fitness and sports activities.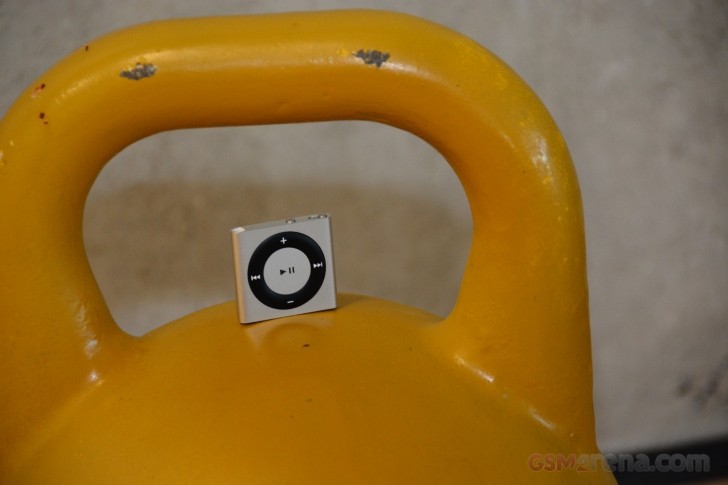 My trusty iPod Shuffle
Who doesn't like or even need music to listen to when training? When I'm running I choose music with the right tempo for my pace and training in a gym allows me to shut out everything around me and focus. For me, what I don't want is an expensive iPhone Plus sized device always with me that bounces around in my running shorts pocket - assuming it doesn't bounce out, looks way too big in an armband, can get stolen from a gym or broken when I fall off my mountain bike. Hence why my trusty, bullet-proof, iPod shuffle stayed clipped to me.
Apple didn't enable syncing my Apple Music playlists or tracks to the iPod shuffle, only my original 'ripped' or purchased tracks. This was OK in the beginning but my music on the Shuffle has now 'aged' and it's in desperate need for a refresh.
'Come on Paul, that's what the Apple Watch is for!' I can hear you all screaming at me. Before you do that though, for me, there are other smart/sport watches that provide superior 'sports' metrics and significantly better battery life. These and other considerations ensured that I use a Garmin Fenix 5 rather than the Apple Watch.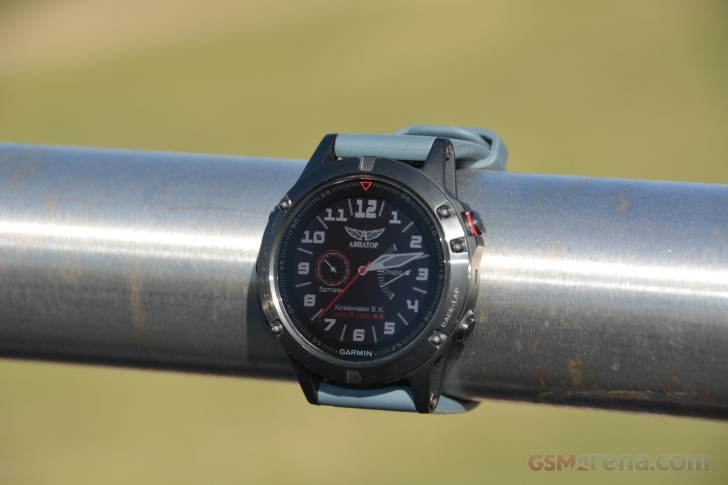 My go to wearable is the Garmin Fenix 5
There could be numerous reasons why Apple hasn't enabled Apple Music syncing with non-iOS iPods. Apple pulled out of the non-connected iPod market so why would they provide software updates to discontinued devices, even though when Apple Music launched they were still selling the iPod Shuffle and iPod Nano. Prior to that, Apple stopped breaking out and reporting iPod sales and bundled them into the 'other products' category as the iPod category as whole was in decline as we all migrated to smart phones.
Another reason why Apple didn't enable this functionality could be down to the record labels and the 'deal' that Apple has in place with them. They may have envisaged the use-case where you could sign up for a Apple Music trial, load all your music onto an iPod and then cancel the trial. Hey presto, iPod full of the latest music for free and repeat as necessary.
Even given all this, I continued to envisage a new iPod, compatible with Apple Music that would again serve my needs perfectly. I'm a realist though and outside of Apple opening up Apple Music to 3rd parties, which will never happen, I wasn't going to get the device that I wanted.
Over the last year or so two products were announced that again turned my thoughts to a new iPod Shuffle. The first of those announcements was the Pebble Core, a $69 (Kickstarter promotional price) 3G wearable with WiFi & Bluetooth that tracked workouts via GPS, streamed music via Spotify and had Alexa built in. It would have had 9 hours of battery life even with location tracking and was 40mm x 40mm x 20mm in size. I say would have had as the Pebble Core never saw the light of day following Fitbit's purchase of Pebble in late 2016.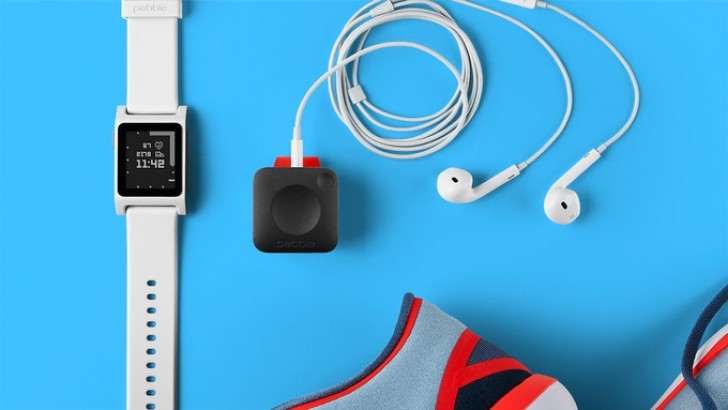 The Pebble Core never saw the light of day following the acquisition by Fitbit
Earlier this year, Mighty Audio launched the Mighty, a $86 portable music player for streaming Spotify. 38.1mm x 38.1mm x 17.78mm in size, it supports WiFi and Bluetooth but disappointingly comes with a battery life of only 5 hours. This is the shuffle Apple should have made!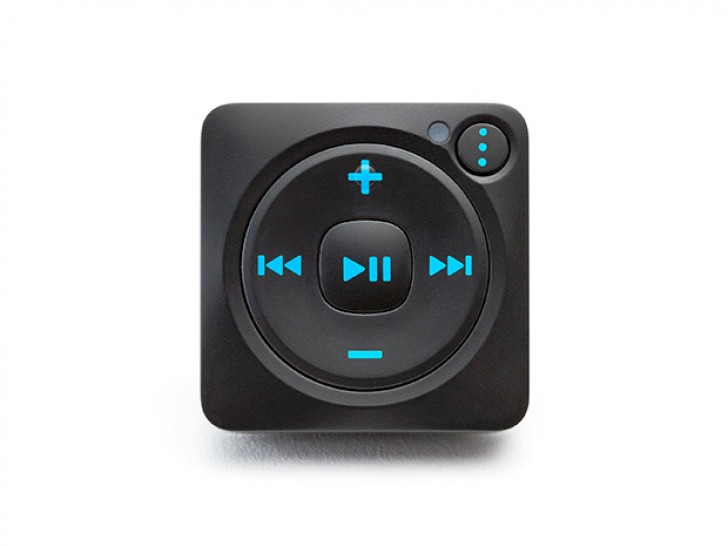 Mighty - Spotify Without Your Phone
So, given the interest and coverage that these two devices received we'll proceed under the premise that there may be a market for this type of device.
Introducing the iPod Music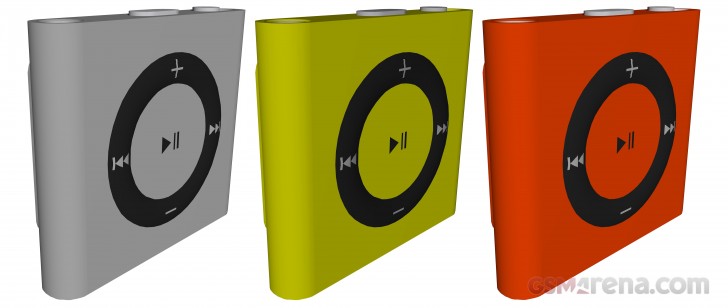 Simple render of the iPod Music with larger body and Siri button on the top
Features
Easily sync your go-to play-lists to your iPod Music
Use your AirPods, any wireless headphones or 3.5mm headphone jack
40 Million songs to motivate you
Siri
Waterproof up to 50m
10 hours of audio playback
8GB Storage
38mm wide x 33mm tall x 10mm thick (including clip)
Bluetooth and WiFi
Less than $100
Approach & Construction
The iPod Music could use off-the-shelf parts from the Apple Watch, as such I based the case size on the 38mm Apple Watch. For the overall look'n'feel, let's stick with the iconic iPod shuffle design, an approach not to dissimilar that Apple took with the iPhone SE. No need for stainless steel or other exotic materials here, aluminum is perfect for this device and further helps in keeping the cost and weight down. In the renders, I've kept the same size iPod Wheel on the front as the Shuffle, but it could be enlarged to ease interaction.
Vibrant colors to match fitness clothing with maybe additional colors matching the latest iPhones please.
We don't need a screen, Taptic Engine (which is estimated to make up 25% of the Apple Watch's volume), Optical Heart Rate Monitor or GPS capabilities. This reduces battery usage and the resultant space freed up can be utilized by an even bigger battery. The 10 hours of audio playback figure I quoted above was for a standard Apple Watch series 3, so it should be bettered by a bigger battery.
We'll use the Apple S series processor. Music playback is low overhead and we'll use the spare CPU cycles to power Siri for interacting with the iPod Music.
Without over-engineering it to include a form of conductive charging, the Apple iPod Music could be charged via Lightning which will also allow a physical connection to iTunes, or less ideally it could adopt the previous Shuffle's approach by using a proprietary 3.5mm to USB cable.
This brings us to the most contentious element of the iPod Music, the 3.5mm headphone jack. By utilizing the Apple W1 chip, the Apple iPod Music could stream to Bluetooth headphones. I can still envisage a scenario where wired headphones would be preferred as they would boost battery life. A 3.5mm audio jack and a lightning port will make waterproofing trickier but not insurmountable.
Interacting with the Apple iPod Music
Whether you love or loathe iTunes it would be one method of putting music onto the iPod Music. Offline playback would be no different to downloaded music on an iPhone when in Airplane Mode. Additional methods could utilize Bluetooth and/or Wi-Fi. Apple Music on the iPhone could be modified to sync tracks and playlists in a similar fashion to the approach taken with the Apple Watch app.
Additionally, Apple Music could be streamed via Wi-Fi when working out in the gym, even if it impacts battery life.
Siri, would supplement the original Shuffle's Play/Pause, Next/Fast Forward, Previous/Rewind and Volume Up/Down front controls and the top mounted three-way power/shuffle switch. Replacing Voice Over, a larger Apple Watch-like button would invoke Siri allowing interaction for music controls. Additional Siri commands could be used to tell the time and set various fitness related timers for intervals and such like.
Price
Apple doesn't publish or confirm analysts estimates on how much it costs to make a iPhone or Apple Watch. Tim Cook stated that these estimates are inaccurate and "much different than the reality." Given all that, even by adding a multiplier to some of the published component estimates, I believe Apple could bring this in at under $100 without sacrificing any of the unique "Appleness" that goes into their products.
Summary
A laser focused device like this wouldn't need costly yearly updates, outside of matching Apple's latest color variants, and could be used by Apple as another way to bring subscribers to Apple Music.
My thoughts above are simply stakes in the ground to promote debate. Several points are left outstanding and I'm sure some have not even bubbled to the surface. What would the impact of Bluetooth/WiFi be on battery life? 3.5mm headphone jack and/or a Lightning port?
What is certain is that Apple don't need to make the iPod Music to drive revenue. As I previously stated, when Apple stopped reporting sales of iPods they put them into the 'other products' category, alongside Beats, AirPods and the Apple Watch. It's fun to speculate that a re-imagined iPod, at the right price could provide a boost to the entire category.
If nothing else, writing this article has proved cathartic and I can go back to training either worrying about my iPhone or with no music at all.
t
Interesting as your article is, I can't see Apple doing that anytime soon, if ever again. I only own a first gen shuffle 512mb as it could also be used as simple flash drive at the time. I was an ipod person. I started with the 30GB iPod Photo, then ...
D
O and i had a lot just 'cause importante can't live without músic jajaja for shure
D
Well actually i still own all my Walkmans in nearly new and perfects conditions they are awesomly well built, i do not own my Ipods any more not cause I destroy them, no, well I only own my shuffle one but i almost never use it 'cause the Walkmans wo...