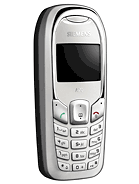 h
This phone will compete with the Nokia 2100 and Motorola C155. The Siemens A75 will compete with the Nokia 2600 and 2650.
M
I'm sure the other mobile phone giants have budget mobile sets which offer much better features than the A70. N2650, 2600, 3120? Anyway, that's just how I feel.
R
siemens makes affortable mobile phones for the low budgeted people, thanks siemens and long live.
N
People out there still want budget phones. Elderly people and pre-teenage kids aren't going to be using the latest mp3 colour smartphones are they? Nor can they afford them either.
M
I don't understand the Siemens A70 at all. No colour screen, no camera, no nothing. This is a ridiculously low end phone.
Total of 126 user reviews and opinions for Siemens A70.