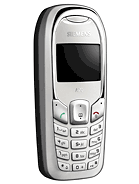 6
I bought this terminal today and i'm happy with it! The construction is good and keypad is silenced and confortable! It's early to talk about the battery! Display is as good in font and brightness/contrast!
h
This phone will compete with the Nokia 2100 and Motorola C155. The Siemens A75 will compete with the Nokia 2600 and 2650.
M
I'm sure the other mobile phone giants have budget mobile sets which offer much better features than the A70. N2650, 2600, 3120? Anyway, that's just how I feel.
R
siemens makes affortable mobile phones for the low budgeted people, thanks siemens and long live.
N
People out there still want budget phones. Elderly people and pre-teenage kids aren't going to be using the latest mp3 colour smartphones are they? Nor can they afford them either.
M
I don't understand the Siemens A70 at all. No colour screen, no camera, no nothing. This is a ridiculously low end phone.
Total of 127 user reviews and opinions for Siemens A70.