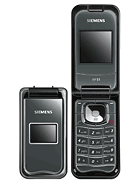 G
I have had this phone (CX65)for 18 months now. I am going to change it for a Siemens AF51. Reasons? The CX65 is too big, has a big display which I do never use, has a camera which I do never use (what do you do with the pictures aniway? you have to buy a USB cable to transfer them to your computer, and then you realize that they are low quality pictures which can not compare with the pictures of a digital camera.. same for the videoclips). It is not at all good looking.

Why do I choose AF51? It SMALL, good looking, and cheap... (you can have it for 49 euros). It's a classical phone, with no features. Features where invented to make you pay a lot of money for things you don't need. A phone is a phone, to talk with it. ¿Do you really go to Internet with your phone? It's expensive, slow... A computer does that much better.
This is my opinion. What do you think?
T
I have this phone in my posession for a couple of weeks now, and I don't really have any complaints.
If you want a phone with a lot of features, you shouldn't buy the Siemens AF51, but if you're into a small simple phone with a special design, this phone is recommendable.
As already said above, this phone doesn't has many features. You can call and send SMS messages with it ofcourse, and also MMS. Further it has some nice organiser functions and a handy unit converter, but that's about it.
This is a nice phone, is my experience so far. The only disadvantage I could come up with at the moment is that when you are recharging the battery, the external display stays dark, so you hardly can't see how far along the battery is at recharging.
?
hmm it seems a lot like the M55, but i'm interested. i like the unique design.
K
Would this phone work with a C55 USB charger?
As on this page ??
USB Charger
?
the phone is simple(typical for most siemens) but the design is unique
?
I'm currently using this phone and it's quite nice, I must say! I know it lacks many, many things but what did you expect from A series?? It's nice for its price...
l
nice design but the spec..very bad..no bluetooth, no IR..better spend some of the extra cash on a better phone. quite disappointed..
O
The outlook design is good! For an A-Series phone, we cannot have more wants. It can compete with Nokia 6060 if it is released now.
Total of 54 user reviews and opinions for Siemens AF51.