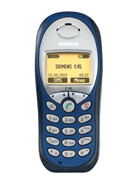 a
It's price about $160 Unfortunetly C35 is not equiped with GPRS and Intenal Handsfree
N
Hi,
Handset looks good and packed with lot o f features. Can you tell me the price of this in Indian Rs.

Regards

M
What is EMS at all?I think this phone is one of the best looking phones I ever saw.Does someone knows what will be his price and is it already possible to buy it in Germany?
N
As far as I know there will be a possibility to get them via SMS, but this is not via EMS standard....
a
I forgot to mention that design is much better than C35. I hope that C55 will finally integrate USB because its much cheapier to play with usb then w/ 50$ serial cable.
a
Does anyone knows how will we transfer the ringtones to the phone? Sms or only with cable because there is still NO IRDA.
Total of 249 user reviews and opinions for Siemens C45.