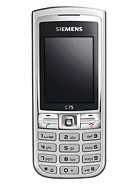 c
marsovac u r right, its a phone 4 people who doesnt give a damn about mp3, bluetooth or radio. anyway, about mp3, i wouldnt buy a phone with mp3 without a memory under 1 GB. hopefully phones like N91 will be more on the market an much cheaper the next years.
m
This is a step forward for a siemens C class. Compared to C65 it has larger & better diplay, better camera, possibility to record video, email client, h/w modem... much better than c65 in any way! The introductory price is expected to be around 180 EUR (which was the case with C65, that now sells under 100 EUR in my country). Design is very attractive and it really looks like SonyEricsson, but with Siemens traditionally good user interface, unmatchable address book & organizer, this phone will be a hit on the market. All other fancy stuff, like mp3, bluetooth etc. will be included in CX75 for the slightly higher price
j
exciter, your point is noted. but what i was suggesting was that the design of the c75 be used for higher-end classes. that would make the higher-end phones of siemens a winner. of course this is wishful thinking since, as you said, we can't have everything. i hope though this is proven wrong.
a
VGA camera? 65k display? No bluetooth? .......PLEASE GET IT OUT OF MY SIGHT!;) i dont think this a phone anyone could conside bying...(buy se k700 same looks and ALOT better features!!
x
julian, remember that this is just a C-series, a low/mid-end phone. if you'll visit the siemens website, its tagline says "elegance at an affordable price." if you want the features you've mentioned, then you must consider the CX75 or the M75. you can't have them all, there will always be product segregations. unfortunately, most do not understand this.
j
this phone has a nice design. i like the keypad. sadly, siemens once again disappoints with the features. it is my opinion that this phone's design would sell well as it looks like the sony ericsson k750. i hope siemens read the opinions posted here and thinks about improving the features on this phone to include a 2.0 megapixel camera, a mini sd slot, bigger internal memory and bluetooth. if it has these features as well, i would buy it for sure provided of course the price is competitive.
?
tried to copy sony ericsson K700i. no way near good enuf. siemens i advise u save ur money, n take this phone out
Total of 350 user reviews and opinions for Siemens C75.