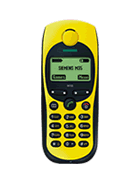 O
Bad battery life 48h max.
in city conditions
Good outdoor performance, can be washed or dropprd hardly without any inconvenience for the phone even if stepped on to it with a car.
A
This phone is perfect for me. It's got features that usually come in a high-end cell phone and also combine with a water, shock and dust resistance makes it a good choice for an outdoor adventurers and extreme sport athletes. That haryono guy... he just plain suck!! He didn't know what he is talking about. If he disses this phone just because his phone hung up (probably because he has a shitty SIM card or he just bought the phone from the lame black market)maybe he just ought to buy a nokia..
h
I've been using this kind of phone for about 6 month now, and my comment about it is, that this mobile phone is sucks, especially about when the first time I installed my sim card the phone got hang few times
L
I have been waiting for a phone to be stylish and useful to my age group that doesnt bear the nokia name tag. But could you please tell me what the games actually are, not just the names. thank you
L
u have some info wrong here.i have this fone and it does actually have vibration.
Total of 232 user reviews and opinions for Siemens M35i.