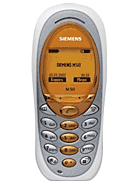 T
lool...the whole phone - especially the oval translucent center - reminds me of those inflatable beach-mattresses with a lil' "window", to see the fishes...lool
v
Design of the phone is good , colors are less , i hope they'll be some others besides orange and blue.
H
Dear Siemens,

I'm interest when i look your pic. on internet. I hope I can buy it one or maybe you'll give me one as my birthday surprise on April 7. Thx before.

Arman
Jl. Dakota 1 No. 12
Bandung 40175
Indonesia

p
Great phone, but where is the color display??????? fisio 820 is better
C
Please, email me a list of all voicestream compatible phones and prices and ordering info. I am a voicestream master dealer.
Total of 92 user reviews and opinions for Siemens M50.