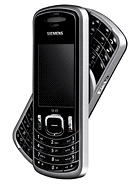 u
Is the best I will buy it instead of Nokia 9500, I could't care about the camera is not usefull.
?
That dosnt mean they shouldn't add a camera, the nokia 9500 is for busness and that has a camera :P.
m
HELLO !! its a corporate phone, not a domestic phone, as in business use -therefore it concentrates more on the business user essentials i.e. blackberry technology rather than a camera d'oh
?
this phone hosts a great kind of innovation.lets wait and see when others will copy it.

Total of 307 user reviews and opinions for Siemens SK65.