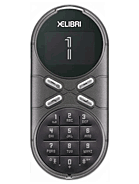 f
A very basic phone. Cool design, slim and light in weight. Rather poor quality, don´t expect it to last long.
A
I enjoy all Siemens phones thank your for the great technology keep it up. At moment l have Xelibri 1 the Star(*) key is not function.Thank you.
U
really has distinct looks., good to carry.
However few negatives are...
ringtone volume is not loud enuf, display white on black is not very clear outdoors, generally the s/w seems dated.
L
I am not happy with my xelibri 1, the features not good...there is no organiser and it's not so friendly
j
How much is this phone in the market?? Can anyone pls tell me.
?
this phone is really really fuc.... bad
it sucks the designer is a 2 year old boy
D
the phone have a fantastic
T
Im not sure about this fone, i have seen it in really life and it just doesnt prove itself worthy of being purchased next to some of the other xelibri fones,dont get me wrong its very cool but still has that remote control/old school fone look to it!the buttons are very tacky to the touch,like they will rip because they are made from sum rubber based material!
A
I will like to you to send me a catlog please
s
is it a remote control?


shit!!!!!!!!!
?
its better than the money sucking 8910 !!!!!
P
Hey.
This one looks quite good...
Of course, technology inside sucks, but it's fashion detail, not high-tech phone...
Total of 34 user reviews and opinions for Siemens Xelibri 1.
ADVERTISEMENTS