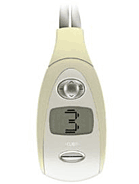 s
where the hell did all these phones come from? i have obly seen like 3 of these but these are awsome phones
T
This fone is alot better than there new attempt the xelibri 8,it is very small and completely voice activated even down to the txt messaging,one down side to it tho is do you think its £279.99 price tag is worth it,up to u,dont forget tho its sim free!
?
stupid design. how are you going to sms with this shit?
e
muahahaha

can siemen produce these shapes of handphones:

1. durian
2. rambutan
3. sea horses
4. sushi
5. v shape
6. shape of a pen
7. cone
8. ant
9. NEMO
10. T shape


6
if i must buy this phone i must think first...i want call someone or drink a bir
?
I want a phone that looks like a strawberry. Will siemens make it for me?
n
this is a breakthrough! I will even trade the most expensive nokia for that. very very small yet useful!
K
Wow looks like a bottle with button and a digital number in the middle. Very stylish!
k
germans know the style!
Total of 72 user reviews and opinions for Siemens Xelibri 3.
ADVERTISEMENTS